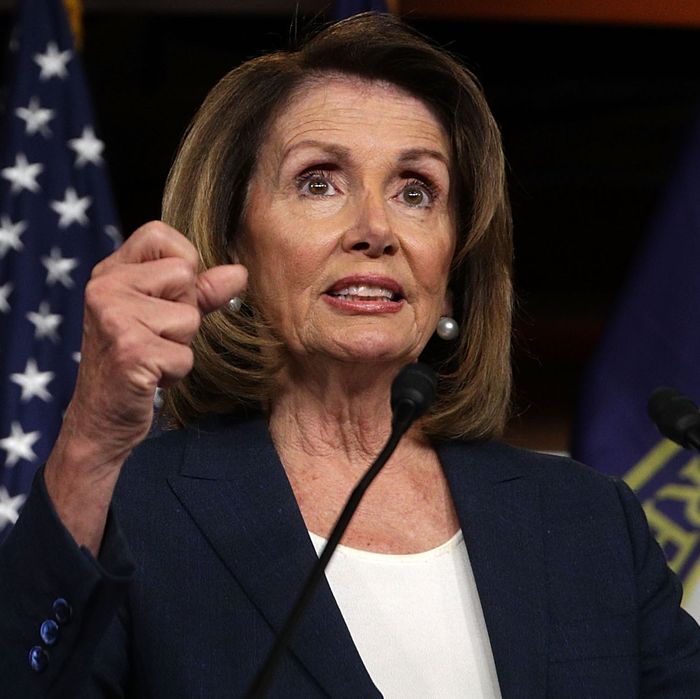 Remember me?
Photo: Alex Wong/Getty Images
Republicans are growing more and more alarmed about the prospect of losing the House of Representatives in November, which would break the party's stranglehold on unified power in Washington. (Senate control is more of a longshot for Democrats, but if the ball bounces the right way, it's within grasp as well.)
A senior Republican on Capitol Hill told ABC News, "If the election were held today, the House would be gone. Fortunately, the election is not today."
These concerns have made their way to President Trump. The Washington Post reported on Sunday that "the concern has grown so acute that Trump received what one congressional aide described as a 'sobering' slide presentation about the difficult midterm landscape at Camp David last weekend, leading the president to pledge a robust schedule of fundraising and campaign travel in the coming months."
The problem with Trump's plan is that, much as he may deny it, he is a primary, if not the primary, reason for the Republicans' plight. The president's approval rating continues to hover in the high 30s, a dismal number considering the country's humming economy. And, as is his wont, Trump keeps making a spectacle out of himself and his party, as he did this week with his "shithole" comment and a series of other missteps you probably don't even remember a few days after the fact.
Trump's deep unpopularity, and the energy of the resistance to his administration, may dramatically exacerbate a fairly reliable political rule: The party that holds the presidency loses congressional seats in the midterms.
Democrats need 24 seats to take back the lower chamber. House control would mean that Democrats could stymie all Republican legislation, order any number of investigations into President Trump, and even impeach him.
At the moment, every reliable indicator of midterm performance shows that Democrats are well-positioned to overcome the persistent hurdle of Republican-led redistricting and win dozens of seats — possibly 40 or more.
In 2017, Democrats well outperformed their 2016 baselines in every statewide election. They made highly competitive races out of special House elections in Georgia, Montana, and Kansas, which Republicans would likely have carried easily in previous years. They then dominated statewide elections in Virginia, tromping the governor's race and defying a Republican-drawn map to almost snatch back the state's lower chamber. Finally, they picked up a Senate seat in Alabama, that, even with Roy Moore as a Republican opponent, would have been unthinkable a year ago.
FiveThirtyEight lists Democrats with a formidable ten-point advantage on the generic ballot.
Another reliable indicator of which party holds the momentum is retirements. Thirty-one Republican members of Congress have said they'll call it quits, a far higher number than a normal ten months before a midterm election. As the New York Times' Nate Cohn notes, that number may be a bit of a false harbinger; Democrats have almost as many incumbents retiring in competitive districts (ten) as Republicans (14). But with two high-profile California Republicans — Ed Royce and Darrell Issa — retiring in blue-leaning districts last week, that balance could change quickly as more embattled Republicans see the writing on the wall.
Finally, there's recruitment. As Republicans struggle to come up with credible candidates to challenge vulnerable Democratic senators and governors, Democrats are sitting in the catbird seat, with an army of well-qualified contenders to GOP incumbents — many of them with military credentials, and many of them women.
Despite everything coming up Milhouse for Democrats right now, some respected political analysts caution against overoptimism, considering the considerable lag between now and November, and the sober lessons of 2016.
But others who have staked their political reputation on circumspection are struggling to discern what, exactly, could go Republicans' way to change the equation.
Buckle up, political junkies and people who care about, you know, preserving democracy in America.