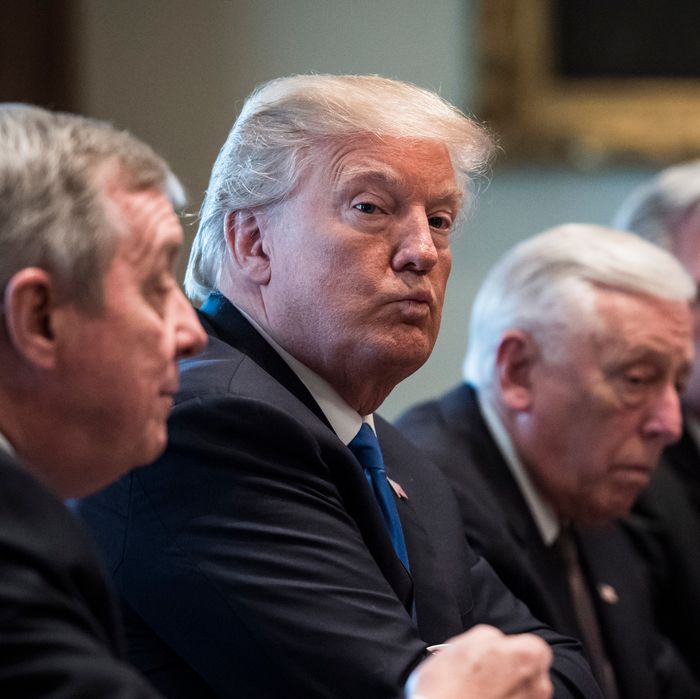 But deals are my art form!
Photo: The Washington Post/The Washington Post/Getty Images
During the last government shutdown in 2013, Donald Trump called his pals at Fox & Friends to explain that presidents — and Barack Obama in particular — should take the blame when Congress is unable to keep the government open. "Problems start from the top and they have to get solved from the top," he said. "And the president's the leader and he's got to get everybody in a room and he's got to lead."
According to the New York Times, President Trump spent his first full day presiding over a shutdown replaying these comments (not in his mind, but literally):
… Mr. Trump spent much of his day watching old TV clips of him berating President Barack Obama for a lack of leadership during the 2013 government shutdown, a White House aide said, seeming content to sit back and watch the show.
Further reporting on Sunday suggests that Trump isn't actually content with his role in the shutdown negotiations. One senior White House official said he's "itching" to get involved, but that's the last thing Republican aides and lawmakers want.
While the president was said to be upset about the prospect of missing a glitzy fundraiser celebrating the first anniversary of his inauguration on Saturday, he dutifully canceled his weekend trip to Mar-a-Lago once it became apparent that the government would shut down on Friday night. Aside from the terrible optics, he probably could have at least attended the fundraiser. He spent the weekend making phone calls, but according to the Washington Post he was mainly seeking updates and commentary, not trying to cut a deal. Otherwise, he just watched cable-news coverage and made an unsuccessful attempt to counter the idea that he's disengaged from negotiations. Official White House photos of the president sitting at an empty desk and visiting the office of press secretary Sarah Huckabee Sanders were widely mocked on Twitter.
Republican strategist John Feehery told the Post that it's smart for the president to lie low rather than bolstering the Democrats' claim that this is the "Trump Shutdown."
"In these situations, the less you're seen the better, and not just for him, for any president," Feehery said. "You kind of want, by your lack of presence, to highlight this being a case of congressional incompetence, as opposed to presidential incompetence, and how you do that is by carefully managing your appearances. The more he appears in public, the more this becomes a Trump problem."
But others suggested aides and GOP congressional leaders were urging Trump to keep a low public profile because he's foiled their immigration efforts so many times in the past, from announcing in September that Congress had six months to replace the Deferred Action for Childhood Arrivals program to dismissing the resulting bipartisan deal with racist quips about people from "shithole" countries. Just 13 hours before the government officially shut down, Trump put Republicans on edge when he invited Senate Minority Leader Chuck Schumer to a one-on-one meeting at the White House. During a televised meeting weeks earlier, Trump had embraced the Democrats' immigration stance before a GOP House leader jumped in to correct him.
Nothing came of Trump and Schumer's Friday lunch, but since then White House Chief of Staff John Kelly has reportedly been handling most calls from congressional leaders. According to the Post, over the weekend aides including Kelly, legislative affairs head Marc Short, and budget director Mick Mulvaney urged Trump to stop trying to strike a deal with Schumer. House Speaker Paul Ryan cautioned the president against negotiating any agreement on Dreamers until the government had been reopened.
Both Democrats and Republicans in favor of striking a bipartisan immigration deal made pleas for Trump to ignore the advice of his aides and talk with them directly.
On Sunday Republican senator Lindsey Graham — who seems keenly aware that Trump responds to what people say about him in the media — said that in a meeting last week, Trump saw a handout from his own staff requesting $18 billion in border-security spending and scoffed "I could do it for less." Graham continued: "So what does the White House staff do a couple of days later? They pitch a proposal for $33 billion. That's just not credible."
The senator also suggested to reporters that the president is letting himself be manipulated by White House senior policy adviser Stephen Miller, an immigration hard-liner.
"His heart is right on this issue; I think he's got a good understanding of what will sell, and every time we have a proposal, it is only yanked back by staff members," Graham said. "As long as Stephen Miller is in charge of negotiating immigration, we are going nowhere. He's been an outlier for years."
Some close to Trump made the not entirely convincing case that he knows exactly where he stands on immigration, and staffers are just pushing hard-line positions at his direction.
"The misconception is that the president does not know what he does not know. In my experience, the reality is that the president knows what he does not know and does not think he needs to know it," Sam Nunberg, a former campaign adviser, told the New York Times. "He's a CEO. The tiny details are for his staff."
Yet Schumer has reportedly been saying that his best shot at an immigration deal is another meeting with the president, away from conservative lawmakers and aides. While speaking on the Senate floor on Sunday, he made another attempt to lure Trump into a one-on-one discussion. "Only Trump" can end the shutdown, Schumer said. "He has a love for the Dreamers, let him show it."