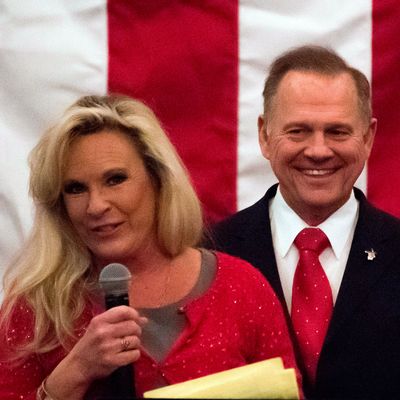 Roy and Kayla Moore.
Photo: Jim Watson/AFP/Getty Images
With only hours until the polls opened in Alabama's special election last month, Kayla Moore, wife of mall-prowling Evangelical Roy Moore, launched a curious defense of her husband focusing on one of the lesser-known reasons to oppose his election to the U.S. Senate.
"Fake news would tell you that we don't care for Jews," she said at a rally in Midland City. "I just want to set the record straight while they're here," she said, waving to the press. "One of our attorneys is a Jew."
The lawyer Moore appeared to be referring to is Alabama defense attorney Richard Jaffe, who is indeed Jewish and has in fact worked for the Moore family. But it turns out he's also a huge supporter of Doug Jones, the Democrat who beat Moore in the special election and will be sworn in to the U.S. Senate this week.
"There could not be a more passionate supporter of Doug than me!" Jaffe told the Washington Examiner. He didn't just vote for Jones either. Jaffe told the Examiner he contributed to and raised money for the Jones campaign too.
Moore's denial of her husband's alleged anti-Semitism came after the former Alabama Supreme Court justice said billionaire Democratic donor George Soros is going to hell because he's Jewish. "He's still going to the same place that people who don't recognize God and morality and accept his salvation are going," Moore said. "And that's not a good place."
While the Moores desperately touted their relationship with Jaffe, who represented their son after a drug arrest, the Birmingham-born lawyer was helping Jones across the finish line. And when the civil-rights attorney won the election of December 12, Jaffe was on the stage with him as he gave his acceptance speech. On Wednesday, Jaffe plans to be in the Senate gallery when his friend Doug Jones is sworn in.