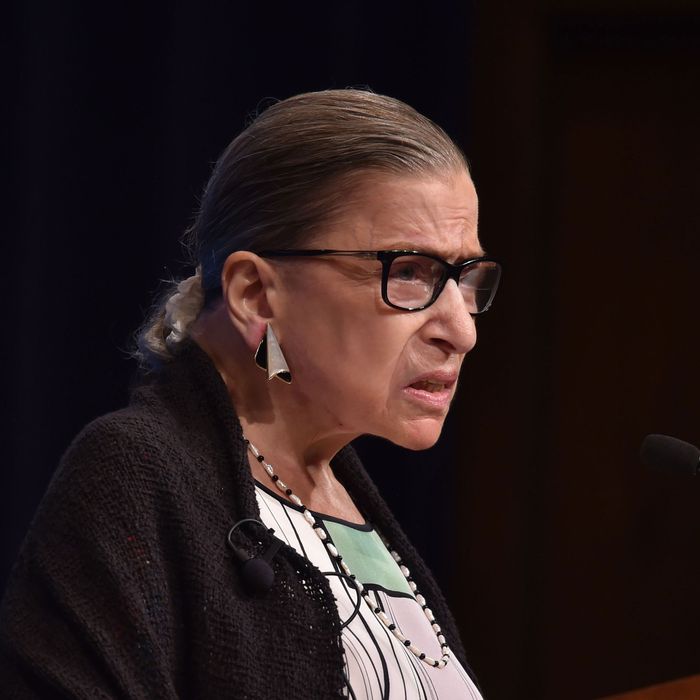 Justice Ginsburg has no plans to vacate her seat and give conservatives a chance to upend constitutional law.
Photo: Nicholas Kamm/AFP/Getty Images
As shutdown fever overtook Washington this weekend, something happened 2,000 miles away that could well have a greater impact on the left-right struggle in American politics than any of the issues the parties are fighting about in Congress at the moment:
Supreme Court Justice Ruth Bader Ginsburg says thanks for asking, but she has no plans to retire anytime soon.




She has law clerks on staff through the court's 2020 term. The earliest she could step down would be in 2021 — when she is 88.




But she said Sunday she doesn't plan to do that.




During a Sundance Cinema Talks conversation with Nina Totenberg, Ginsburg said that her health is "very good" and that she still enjoys the work.
Ginsburg is the oldest Justice, and conservatives — especially the Christian right activists who with Justice Gorsuch's ascension understand that they are just one more SCOTUS seat away from the votes to radically change U.S. constitutional law — have been eyeing her spot ever since their ally Donald Trump won the presidency.
In particular, the constitutional right to an abortion, as established in Roe v. Wade and confirmed in Planned Parenthood v. Casey, is probably hanging by a slender thread. If one of the Court's five remaining defenders of abortion rights (as reflected in the 2016 case of Whole Women's Health v. Hellerstedt, which struck down state abortion restrictions using the standards laid out in Casey) — that would be Ginsburg, Anthony Kennedy, Stephen Breyer, Sonia Sotomayor, and Elena Kagan — steps down and gives Trump another appointment, we could be back in the days of states determining the legality of abortion before you could say "turn back the clock."
Ginsburg's statement that she intends to stick around through 2020 is a pretty clear message to conservatives that if they want to be sure to have their way with the Constitution they'd better hang onto the White House and the Senate in the 2020 elections. That is the broader context for understanding the savage partisan conflict in Washington this year.