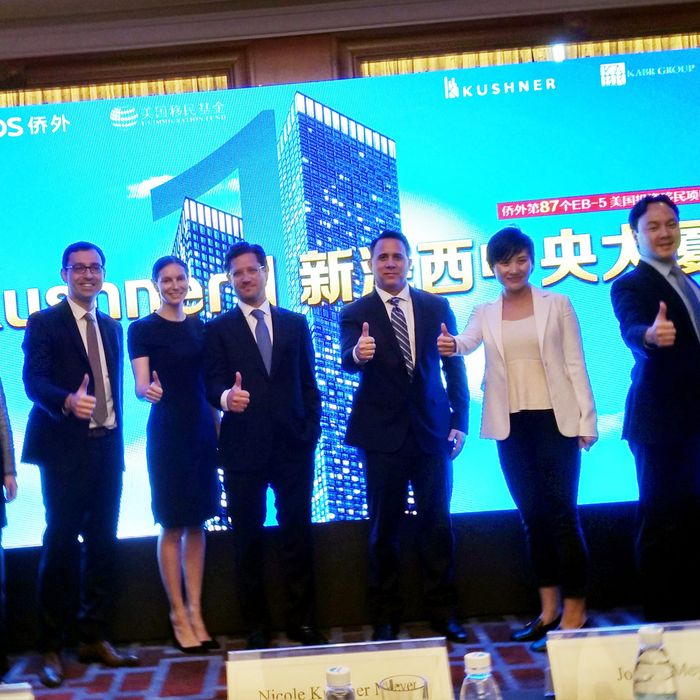 One of the Kushner Companies EB-5 events in China last May.
Photo: Albee Zhang/AFP/Getty Images
Kushner Companies, the family real-estate business of President Trump's senior adviser and son-in-law, Jared Kushner, is facing an investigation by the Securities and Exchange Commission over its use of the U.S. EB-5 investment-for-visa program, according to The Wall Street Journal. The investigation is being conducted in concert with a previously reported investigation into the company's EB-5 use by federal prosecutors from the U.S. attorney's office in Brooklyn. Both have subpoenaed the company for information regarding its use of the program, and their probes began in May not long after it came to light that the company seemed to be leveraging the Kushner family's connection to President Trump as part of its marketing for events promoting EB-5 visas to would-be Chinese investors.
The oft-criticized EB-5 visa program offers green cards to immigrants who invest $500,000 or more in U.S. businesses, so long as that investment creates at least ten jobs. EB-5s have been particularly popular in China in recent years, where it is referred to as the "golden visa," and the Kushner Companies events in China last year were offering EB-5s in exchange for investments in the company's Kushner 1 project in Jersey City. After the resulting controversy over the Jared and Trump-linked marketing of those events, the company apologized and announced an end to the pitches.
A Kushner Companies spokesperson told the Journal that the company did nothing improper in its utilization of the program, and that it is cooperating with the investigation.
Jared Kushner resigned from his role running the company after he was named a White House senior adviser, but he still retains a stake in part of the business.
Late last month, it was reported that federal prosecutors in Brooklyn had also requested Kushner Companies records from Deutsche Bank, a longtime business partner that has lent hundreds of millions of dollars to the company. That may be part of a different investigation into the company, however, and not necessarily related to special counsel Robert Mueller's investigation, either.