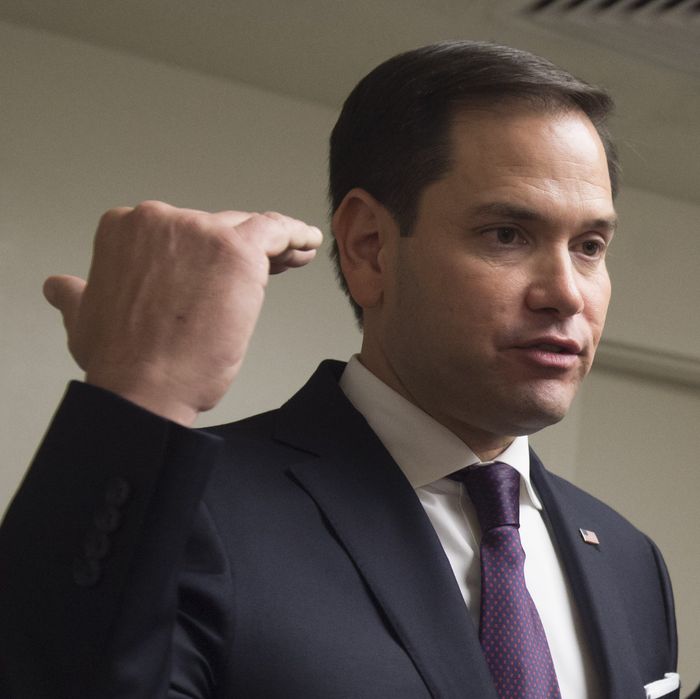 Rubio.
Photo: Saul Loeb/AFP/Getty Images
Senator Marco Rubio announced on Saturday night that he has fired his chief of staff, Clint Reed, after an investigation into allegations of "improper conduct." Per Rubio, the investigation found "sufficient evidence to conclude that while employed by this office, my Chief of Staff had violated office policies regarding proper relations between a supervisor and their subordinates." The statement does not specifically mention sexual harassment, but seemed to imply it, since the misconduct "led to actions" that "amounted to threats to withhold employment benefits."
Rubio said that as soon as the allegations were reported directly to him on Saturday, he had his general counsel begin the investigation, and subsequently flew back to Florida to fire Reed. Rubio also said his office is trying to make sure "those impacted by this conduct have access to any services they may require now or in the future," suggesting there was more than one staffer who was affected. No other information was provided "pursuant to the wishes of those victimized by this conduct."
Reed managed Rubio's presidential and Senate re-election campaigns in 2016, and became his chief of staff in January 2017. He will now be replaced, at least on an interim basis, by Rubio's deputy chief of staff, Jessica Fernandez.