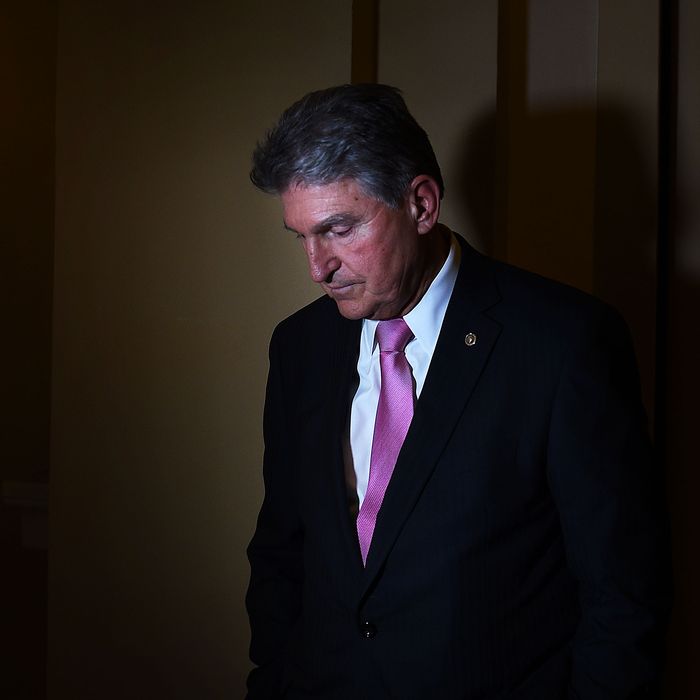 Not a happy camper.
Photo: Astrid Riecken/The Washington Post/Getty Images
The New York Times reported on Tuesday that West Virginia Democrat Joe Manchin was on the verge of announcing his retirement from the Senate, but was talked out of it by fellow moderates, and will run for reelection this year after all.
Manchin told Senate Minority Leader Chuck Schumer and others that "this place sucks," a comment that will inspire knowing nods from both sides of the political divide.
Democrats desperately need him to run if they have any hope of retaining his Senate seat in West Virginia, which voted for President Trump by 42 points. But Manchin, a conservative Democrat who once ran a campaign ad in which he shot a hole through a cap-and-trade bill and has been known to take friendly phone calls from President Trump, is increasingly out of step with his leftward-leaning party.
"I've said this point blank: If people like me can't win from red states, you'll be in the minority the rest of your life," he told the Times.
Indiana's Joe Donnelly and North Dakota's Heidi Heitkamp, also red-staters facing tough reelections, urged him not to quit, and Manchin, who was also inspired by the bipartisan deal to reopen the government on Monday, listened. He vowed to file paperwork for the campaign before the Friday deadline.
Despite West Virginia's extreme lurch to the right in recent years, Manchin retains a relatively healthy 52 percent approval rating in the state.