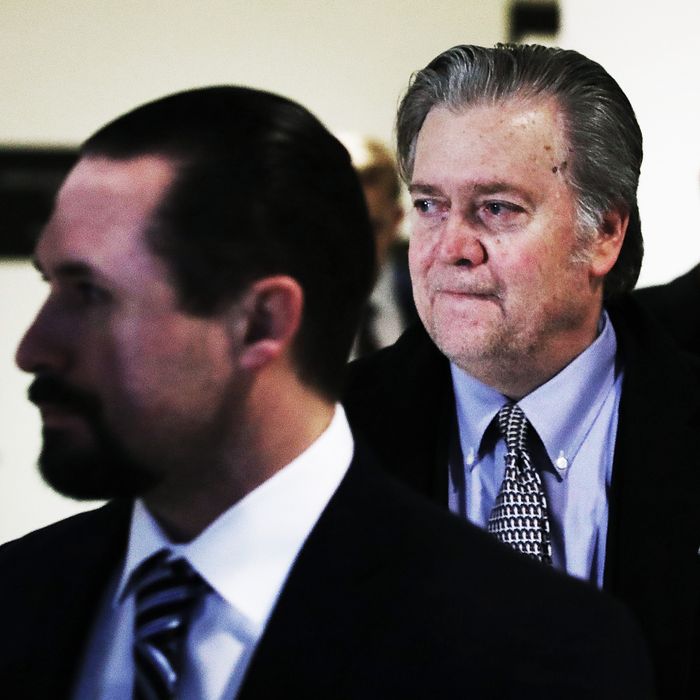 This is all part of the master plan.
Photo: Mark Wilson/Getty Images
It has been a suboptimal month for Steve Bannon. First, the rabble-rousing populist and noted Art of War reader was booted from Breitbart, the website he made into a household name, after he ran his mouth off about President Trump's family to Michael Wolff.
Now, Special Counsel Robert Mueller is on his trail.
The New York Times reports that last week, Mueller took the unusual step of issuing a subpoena to Bannon, directing him to testify before a grand jury. It's the first time Mueller has employed this tactic to suss out information from a Trump adviser.
The Times speculates that the aggressive maneuever may be part of a negotiating tactic; Mueller can dangle the threat of formalized grand jury questioning in order to get Bannon to cooperate in a private setting instead. It's unclear why Mueller hasn't employed a similar strategy with other witnesses as part of his investigation into Russian interference in the 2016 election.
Bannon is not thought to be a central figure in some of the most damning episodes Mueller is investigating, like Trump's firing of former FBI director James Comey. But he ran Trump's campaign at the height of the Russian interference campaign and was part of Trump's inner circle during the administration's chaotic first few months, so it's very possible his testimony could be helpful to the special counsel.
On Tuesday, Bannon testified before the House Intelligence Committee as part of its investigation into Russian interference. When he refused to answer questions, he was issued a separate subpoena to comply.
Bannon told Wolff, whose book Fire and Fury depicts an unhinged President Trump, that White House advisers including Donald Trump Jr., Jared Kushner, and Paul Manafort were "treasonous" for meeting with Russian operatives at Trump Tower in June 2016, and that he was certain President Trump would have been told about it. Manafort has, since that meeting, been indicted by Mueller, and is awaiting trial.
After the book came out, President Trump publicly broke with Bannon, dubbed him "Sloppy Steve" on Twitter, and told allies they must choose between him and his former adviser. Since then, Bannon has been in public-opinion freefall among Trump's base.
But in a Wall Street Journal interview last week, Trump didn't rule out reconciling with his former chief strategist eventually, perhaps intuiting that a spurned Bannon could be a dangerous witness against him.