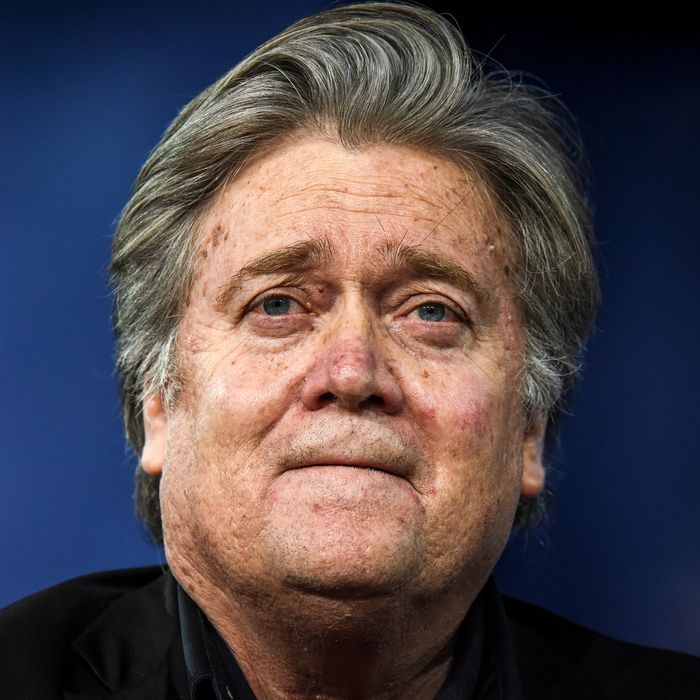 Former White House chief strategist, and now former Breitbart chief, Steve Bannon.
Photo: Bill O'Leary/The Washington Post via Getty Images
On Tuesday afternoon, Steve Bannon was forced to step down as the executive chairman of Breitbart News, the far-right political website that used propaganda and misinformation to help elect the man who would ultimately finish him off: President Donald Trump.
Bannon's departure concluded a dramatic reversal of fortune for the former chief White House strategist who, in less than two years, vaulted from the irrelevant periphery of American political discourse to its white-hot center before deciding to walk out into the wilderness covered in honey and without any allies. In the end, his fall was a spectacle as strange and confusing as his rise.
"I've never seen a self-immolation like this," a longtime friend of Trump's said. Senior White House officials and other sources close to the president who spoke to New York expressed similar astonishment, as well as rage flecked with a kind of amusement: What, exactly, had Bannon been thinking when he told the author Michael Wolff that Donald Trump Jr.'s meeting with a Russian lawyer at Trump Tower in 2016 was "treasonous"? Or when he allowed Wolff to hang with him and his tribe of dirtbag hangers-on in the West Wing without supervision? Surely he must know that the publication of Wolff's book, Fire and Fury, would spark an all-out war, and possibly provoke the president into questioning his sanity and giving him a nickname like "Sloppy Steve." And Bannon had to see that war with the president of the United States would likely result in his total ruin, driving away his financial backers, pet candidates, and remaining White House friends.
Yet, until the very end, Bannon seemed unable to admit he'd so thoroughly fucked himself, and unwilling to believe that even his own had turned on him.
When the president saw Stephen Miller, his senior policy adviser and a longtime ally of Bannon's, at Camp David over the weekend, he suggested to him that he appear on the Sunday-morning talk-show circuit, according to a senior White House official, and Miller, who's always eager to be on television, agreed. According to the official, on a phone call to discuss talking points for Miller's appearances, Miller said he didn't need any help preparing. "He doesn't have any reluctance about attacking Bannon," the senior White House official told me, adding that what Miller said "reflects what people here think."
"We're all doing it because we believe it," the senior White House official said. "This book is bullshit."
It was only a few months ago, in late October, that Bannon introduced Miller to the crowd at a Breitbart Embassy cocktail party as "the last man behind enemy lines." But when Miller, twitching but steely eyed, said Bannon was an "angry, vindictive person" on CNN Sunday Morning, it was clear those lines had been redrawn around a new enemy. Bannon regarded Miller as something of a protégé, and he proudly took credit for his success; but Miller has acclimated to the ways of Washington, and easily assumed the role of Cronus, who in Greek mythology is the power-hungry son who castrates his father, Uranus, and tosses his balls into the sea.
A second senior White House official said that after Miller's TV appearance — which Trump watched live and then tweeted about — the president said nothing about Bannon, who's essentially now dead to him. However, he praised Miller, asking rhetorically, How great was Stephen? When Bannon was pushed out of the White House, it initially seemed unlikely that Miller — or any of Bannon's unruly ideological ilk — would survive White House chief of staff John Kelly's West Wing makeover. Around the White House, the pair were once so inextricably linked that they were referred to as "the Steves." But now, as a longtime friend of Trump said, Miller has "cemented his position in the entourage." The source added, "There's no way in the world that Trump dumps him now."
Bannon, 64, arrived at his career as a political operative via a meandering path: seven years in the Navy, M.B.A. from Harvard Business School, Goldman Sachs, a stint working on a space-colonization experiment in Arizona, then off to Hollywood. He wrote and produced movies with anemic success before finding his niche as a right-wing filmmaker and documentarian. That's how he met Andrew Breitbart; after Breitbart's death, in 2012, Bannon became Breitbart's executive chairman. But Bannon wouldn't become famous — even in mainstream political circles — until the 2016 election. Overnight, it seemed, his association with Trump turned him into a household name, a figure better known than perhaps any other political staffer in any comparable position on any other presidential campaign.
In a statement published by Breitbart on Tuesday after news of his exit was first reported by the New York Times, Bannon said, "I'm proud of what the Breitbart team has accomplished in so short a period of time in building a world-class news platform." Larry Solov, Breitbart's CEO, called Bannon "a valued part of our legacy" whose contributions "we will always be grateful for."
Even from the earliest days of the administration, Bannon's relationship with Trump was doomed. That era was plagued by White House infighting that spilled out into the press; too few accomplishments, for which Bannon was partly blamed; and too much media attention and credit for the election directed Bannon's way.
When he left the White House in August and announced plans to assemble a far-right political operation, the perception of Bannon's political importance swelled while the president's patience with his status diminished — even though Trump enjoyed the cat-and-mouse dynamic it created between the Executive branch and the Establishment Republican leadership in Congress. In public statements, the two men seemed to passive-aggressively talk past each other; during his speeches, Bannon stressed that when he signed onto Trump's campaign, he was trailing Hillary Clinton in the polls.
Roy Moore's defeat in the mid-December Alabama special election — which embarrassed Trump, who had sided with Bannon by endorsing Moore, despite allegations that Moore had sexually abused teenage girls — was a breaking point for the president. Still, he and Bannon spoke just before Christmas, their relationship having weathered bigger conflicts than the results of someone else's election. But the publication of Fire and Fury pushed Trump over the edge.
"He is still furious," the longtime friend of the president said. "He has a scorched-earth policy on Bannon."