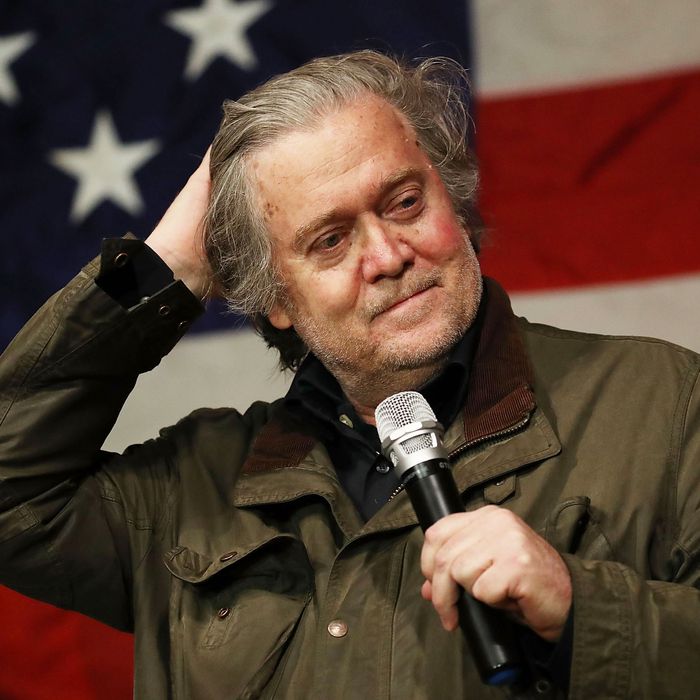 Mama said there'd be days like this.
Photo: Joe Raedle/Getty Images
Steve Bannon, who returned to run Breitbart News after a stint as White House chief strategist last year, said on Tuesday that he was stepping down from his post as the outlet's executive chairman.
The move comes as he continues to suffer the fallout from Michael Wolff's explosive book, Fire and Fury, in which Bannon harshly disparaged several members of the president's inner circle, including Donald Trump Jr., Ivanka Trump, and Jared Kushner.
Since excerpts of the book were published, President Trump and his advisers have all but excommunicated the erstwhile adviser, who helped make Breitbart News a right-wing powerhouse before the 2016 election, then steered Trump to the presidency as head of his campaign.
On Sunday, Bannon offered a quasi-apology for his statements, but it does not seem to have stopped the bleeding. Trump has been asking allies to choose between him and Bannon, and the choice among most has been clear.
The New York Times reports that Bannon's departure was forced by Rebekah Mercer, a Republican megadonor whose investment in Breitbart gave her a seat on the board. Bannon liquidated his equity stake in the operation when he left for the White House, leaving him with a greatly diminished say in the matter.
In an article on Breitbart News, the site announced that "Bannon and Breitbart will work together on a smooth and orderly transition."