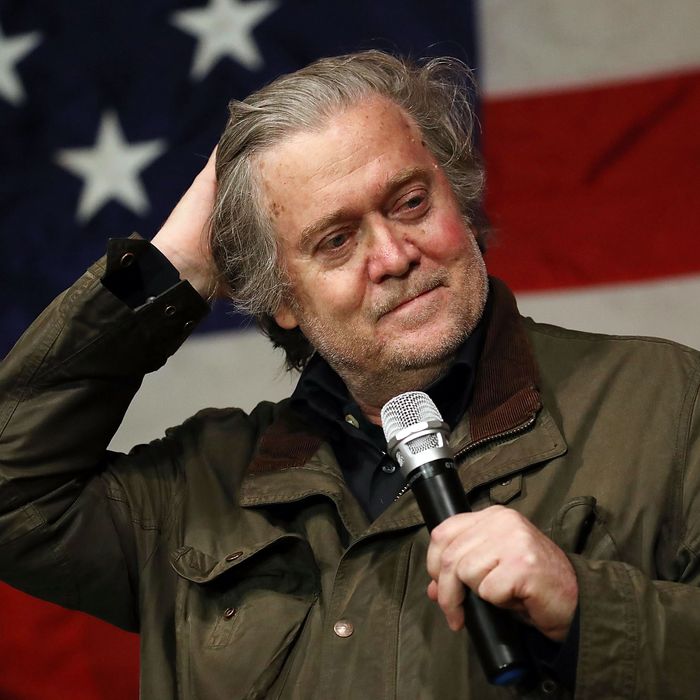 Steve Bannon is on his own.
Photo: Joe Raedle/Getty Images
Wealthy conservative donor Rebekah Mercer, whose support of Steve Bannon helped turn him into a right-wing superstar, officially cut him off Thursday.
"I support President Trump and the platform upon which he was elected," Mercer said in a statement reported by the Washington Post. "My family and I have not communicated with Steve Bannon in many months and have provided no financial support to his political agenda, nor do we support his recent actions and statements."
The criticism comes after the publication of excerpts from Michael Wolff's upcoming book on the Trump White House, which include a flurry of quotes from Bannon that were not well received in the West Wing. But Mercer has reportedly been annoyed with Bannon for weeks, the Post reported Wednesday, citing his support of Roy Moore in Alabama and "comments in the news media that seemed to stoke unnecessary fights."
In Thursday's statement Mercer said she remains committed to Breitbart News, of which she is a partial owner. But she's reportedly not sold on Bannon remaining in charge at the conservative news site. And she's not alone. The Wall Street Journal reports:
Mr. Bannon's longtime benefactors, billionaires Robert Mercer and his daughter Rebekah Mercer, are actively distancing from him even before the expected release of Michael Wolff's book "Fire and Fury: Inside the Trump White House," according to two people close to the Mercers.




They and other Breitbart News Network LLC board members on Thursday were debating whether to oust Mr. Bannon as chairman, with many supportive of the move, according to a person familiar with the exchanges. Among the considerations are Breitbart's contractual relationships with other entities, including Sirius XM radio, that involve Mr. Bannon.
If Bannon is fired by Breitbart News, the move would have the support of the White House. When she was asked Friday if Bannon should be ousted, Press Secretary Sarah Sanders said, "I certainly think that it's something they should look at and consider."