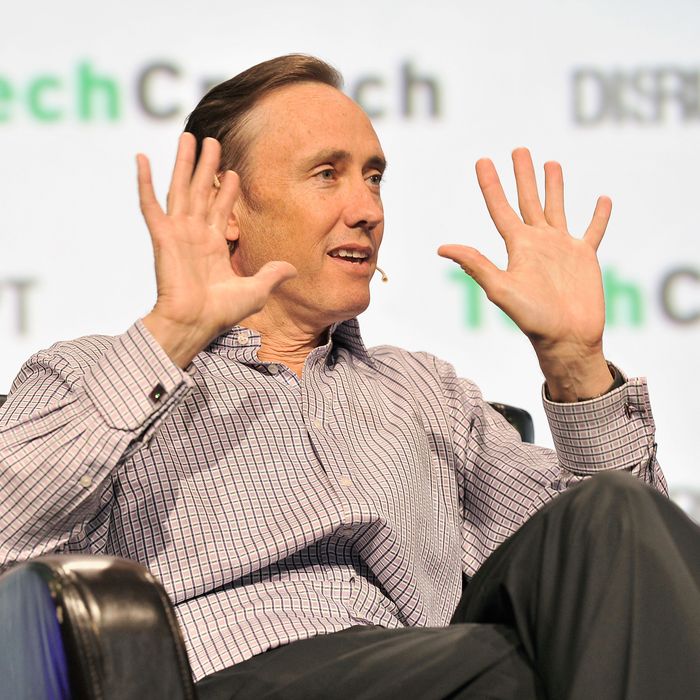 Steve Jurvetson.
Photo: Steve Jennings/Getty Images for TechCrunch
At the beginning of January, Vanity Fair ran an excerpt from Emily Chang's forthcoming book about Silicon Valley culture, Brotopia. The short passage published by the magazine included details of a "'party on the edge of the earth' at the home of a wealthy venture capitalist" in June 2017, which included a — gag — "cuddle puddle." Today, Axios published another short excerpt, which claims that particular party's host was Steve Jurvetson. Jurvetson left his role at Draper Fisher Jurvetson — the VC firm he co-founded — in November 2017 amid allegations of sexual harassment.
From Vanity Fair:
Doe found herself on the floor with two couples, including a male entrepreneur and his wife. The living room had been blanketed in plush white faux fur and pillows, where, as the evening wore on, several people lay down and started stroking one another, Doe said, in what became a sizable cuddle puddle. One venture capitalist, dressed up as a bunny (it's unclear how this fit into the edge-of-the-earth theme), offered Jane Doe some powder in a plastic bag. It was Molly. "They said it will just make you feel relaxed and you're going to like being touched," Doe recounted to me.
According to Axios, Jurvetson's invitation described his home as "Casa Jurvey by the Sea" and asked guests to wear "glamazon adventurer, safari chic and jungle tribal attire." The second excerpt appears to corroborate details in a Medium post — "That party was way worse than it sounds" — published earlier this week by entrepreneur and engineer Paul Biggar who says he attended the "edge of the earth" party, and after receiving his invite, texted his co-founder saying he believed he had been invited to a "sex party." Biggar says the party was an official event hosted by Jurvetson's firm and served as an after-event for its "annual summit." The guests in attendance, according to Biggar, allegedly included Elon Musk, Jason Calacanis, and "an even bigger billionaire founder than Elon Musk." Musk told Business Insider he did attend, but thought the event was a corporate costume party and left at without seeing any sex. "Nerds on a couch are not a 'cuddle puddle,'" Musk told Wired. Guests were shuttled from the summit to the party by the firm. "I can confirm many of the details at the party. The invite, the investor whose house it was, the decor and setup for the cuddle puddle," Biggar writes. "I've since spoken to Emily Chang and nothing she said is at odds with what I saw."