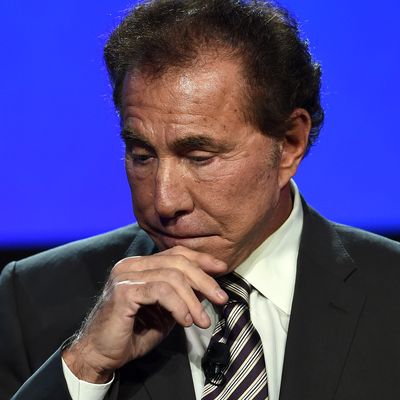 Wynn was hand-picked by President Trump for the RNC role.
Photo: Ethan Miller/Getty Images
Steve Wynn has resigned from his position as the finance chair of the Republican National Committee, according to Politico, just one day after a Wall Street Journal report detailing allegations of sexual misconduct was released. The casino mogul, who has denied the allegations, is a longtime friend (and onetime rival) of President Trump's and served as finance vice-chair of the Trump campaign before being elevated to the RNC role by the president last January.
"The unbelievable success we have achieved must continue," Wynn said in a statement on Saturday. "The work we are doing to make America a better place is too important to be impaired by this distraction. I thank the President for the opportunity to serve and wish him continued success."
RNC chair Ronna Romney McDaniel reportedly spoke with Trump about Wynn on Saturday morning, but it's not yet clear if Trump played any part in Wynn's decision to step down. It's also not clear how the RNC and other Republicans will handle the millions of dollars Wynn has donated to GOP candidates over the years.
Wynn and McDaniel co-hosted a high-priced fundraiser at Trump's Mar-a-Lago resort last weekend to mark the one-year anniversary of the president's inauguration.
On Friday, the Journal reported that Wynn has engaged in a "decades-long pattern of sexual misconduct," particularly toward service employees from his hotel's spa and salon. The allegations, which are based on interviews with dozens of employees, range from sexual harassment to rape.
This post has been updated to include Wynn's statement and other new details.