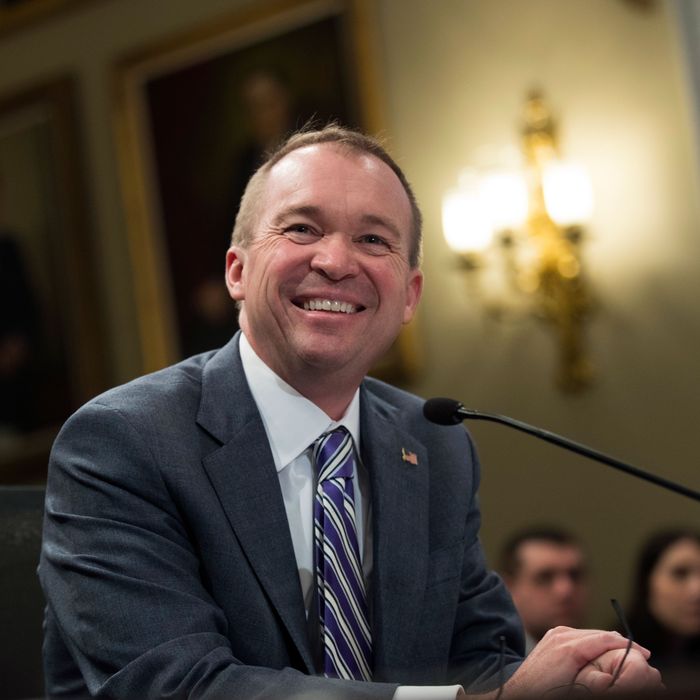 Smug little Mick.
Photo: Drew Angerer/Getty Images
The Consumer Financial Protection Bureau (CFPB) was once an agency dedicated to preventing banks and credit-card companies from scamming ordinary Americans. Now, it is an agency dedicated to protecting potential financial scammers from legal penalties.
This rebrand is the achievement of one Mick Mulvaney. The White House budget director became acting head of the CFPB late last year, when the bureau's first director, Richard Cordray, resigned his post to run for governor of Ohio. Since then, the bureau has dropped a lawsuit into a group of online payday lenders who'd (allegedly) tricked low-income consumers into taking on loans with interest rates as high as 950 percent a year; signaled that it will abolish a rule that requires payday lenders to verify a borrower's ability to repay loans within 45 days; and called off an investigation into an installment lender whose business model depends on giving bad financial advice to heavily indebted poor people.
That last development came just this week. Installment lenders market their loans as a consumer-friendly alternative to the payday variety — while the latter generally come due in mere weeks, the former can be paid back in installments over a longer time frame (from a few months to a few years). But while installment lenders like to brand their product as a safe form of credit, they generally prefer to provide their customers with deceptively expensive loans that will keep them stuck in a perpetually deepening debt. ProPublica exposed the predatory practices of one especially unscrupulous installment lender, World Acceptance Corp., in 2013:
World and its competitors push customers to renew their loans over and over again, transforming what the industry touts as a safe, responsible way to pay down debt into a kind of credit card with sky-high annual rates, sometimes more than 200 percent.




And when state laws force the companies to charge lower rates, they often sell borrowers unnecessary insurance products that rarely provide any benefit to the consumer but can effectively double the loan's annual percentage rate. Former World employees say they were instructed not to tell customers the insurance is voluntary.




… Sutton's loan contract said her annual percentage rate, or APR, was 90 percent. It wasn't. Her effective rate was more than double that: 182 percent.




World can legally understate the true cost of credit because of loopholes in federal law that allow lenders to package nearly useless insurance products with their loans and omit their cost when calculating the annual rate.




As part of her loan, Sutton purchased credit life insurance, credit disability insurance, automobile insurance and non-recording insurance. She, like other borrowers ProPublica interviewed, cannot tell you what any of them are for: "They talk so fast when you get that loan. They go right through it, real gibberish."




The insurance products protect World, not the borrower. If Sutton were to have died, become disabled, or totaled her car, the insurer would have owed World the unpaid portion of her loan.
On Cordray's watch, the CFPB won more than $12 billion in settlements for the victims of usurers like this. On Mulvaney's, World Acceptance Corp. won a 6 percent spike in its share price — when the CFPB announced that it would not recommend any enforcement action against the lender earlier this week.
One could argue that this regulatory victory was, itself, a form of debt collection for World — when Mulvaney was still just a congressman from South Carolina, the firm's political action committee donated at least at least $4,500 to his campaigns.
Back in those days, Mulvaney called the CFPB a "sick, sad joke." Since he took the reins, the bureau has done much to live up to that title.