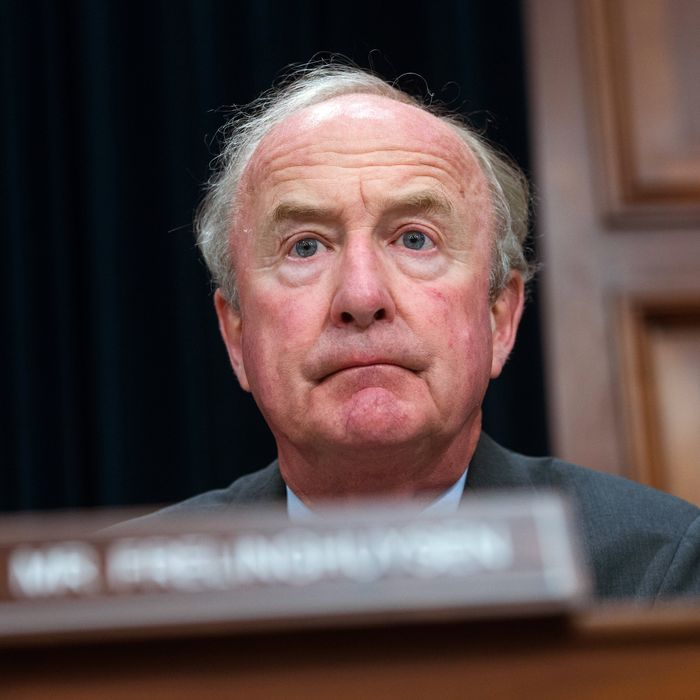 Rodney Frelinghuysen is a richly pedigreed House committee chair, and the 33rd Republican to pass up the chance for another term in 2018.
Photo: Tom Williams/CQ-Roll Call,Inc.
In the latest instance of what has become a trend for House Republicans, Appropriations Committee chairman Rodney Frelinghuysen of New Jersey announced he was retiring at the end of his term after 24 years in Congress. It raises the number of open Republican-held seats going into November to 33, and the number of committee chairs heading to the exits to eight.
Unlike the other seven soon-t0-be-retired House committee chairs, however, Frelinghuysen wasn't facing the term limits House Republicans place on gavel-holders: He just took over the powerful Appropriations Committee in 2017. He apparently decided, though, after 12 relatively easy elections (his lowest winning percentage was 58 percent) that he did not want to face the toughest campaign of his life at the age of 71. His seat was already rated a toss-up by the Cook Political Report, and GOP alarm bells went off last fall when Democratic challenger Mikie Sherrill began significantly outraising Frelinghuysen in campaign contributions. Any appropriations chair who cannot drown opponents in a sea of money is in big trouble.
Frelinghuysen was also likely feeling a bit squeezed between conservatives unhappy with his votes against the GOP tax bill and a 20-week abortion ban, and moderates and independents displeased with his votes to repeal Obamacare. His suburban district, centered on Morris County, has become highly competitive; Donald Trump narrowly carried it in 2016, as did Democratic gubernatorial candidate Phil Murphy in 2017.
Aside from representing another potential brick in the construction of a Democratic House, Frelinghuysen's retirement removes from Congress the latest scion of one of the nation's oldest political dynasties. His father was in the House for 22 years (from 1953 to 1975). His great-great grandfather, Frederick Frelinghuysen, was a U.S. senator and then secretary of State under Chester Alan Arthur. And his great-great-great-great grandfather, another Frederick Frelinghuysen, was also a U.S. senator, a Revolutionary War leader, and a delegate to the Continental Congress. There were two additional U.S. senators among distant uncles and cousins, and also a family connection to the Lodges of Massachusetts.
It's unlikely that all that heritage would have done much good for Rodney Frelinghuysen in 2018. So like a growing number of other Republicans whose politics were shaped in simpler pre-Trump times, he's hanging it up.