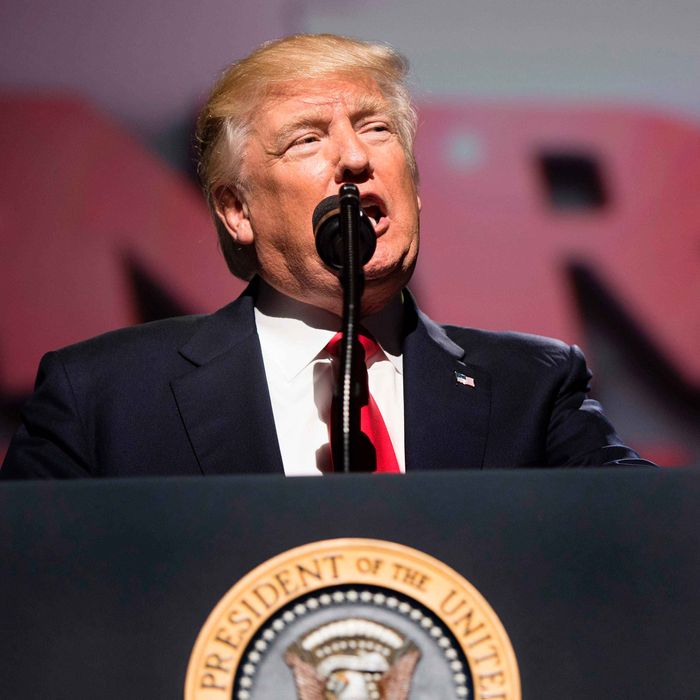 Donald Trump addressing the NRA.
Photo: JIM WATSON/AFP/Getty Images
Russian intervention in the 2016 campaign has a number of complex threads. But the latest development is simple and old-fashioned. McClatchy reports that the FBI is investigating whether a Kremlin-linked Russian banker funneled money through the National Rifle Association to help elect Donald Trump. American law prohibits foreign campaign donations.
The banker, Alexsandr Torshin, has close ties to Vladimir Putin, and the sort of shady connections one expects from an oligarch in the Putin circle. (He has been charged with money laundering overseas and links to mobsters.) Torshin is also a lifetime member of the NRA, hosted NRA delegations visiting Russia, has attended several NRA conventions, and has spoken with gun enthusiast Donald Trump Jr.
Torshin is not the only link between the NRA and Putin. Last February, Tim Mak profiled Maria Butina, a gun-rights activist who has worked in American right-wing politics. At one Washington party immediately after the election, Butina "brazenly claimed that she had been part of the Trump campaign's communications with Russia, two individuals who were present said. On other occasions, in one of her graduate classes, she repeated this claim," Mak reported.
Both Butina and Torshin have also worked with Paul Erickson, a veteran Republican operative and gun rights activist who has cultivated close ties to Russia. Erickson has called the alliance between the NRA and "Right to Bear Arms," its Russian counterpart, a "moral-support operation both ways." There is a genuine ideological connection between the right-wing ideology of the NRA and of many Russian nationalists, a strand of violence-obsessed authoritarian pan-European nationalism. Of course, if the support given Trump by Russians was not merely moral but also financial, it would violate the law.
It is also worth contemplating the effect any legal trouble for the NRA would have upon the Republican Congress. There is no more untouchable faction of the Republican Party than the NRA. Already, Trump's allies have coalesced behind him and used their investigative power to support his wild claims that the FBI is part of a sinister deep-state conspiracy against him. If the NRA is swept up in Robert Mueller's probe, the pressure on Republicans to fire or hamstring his investigation would ramp up to overwhelming levels.