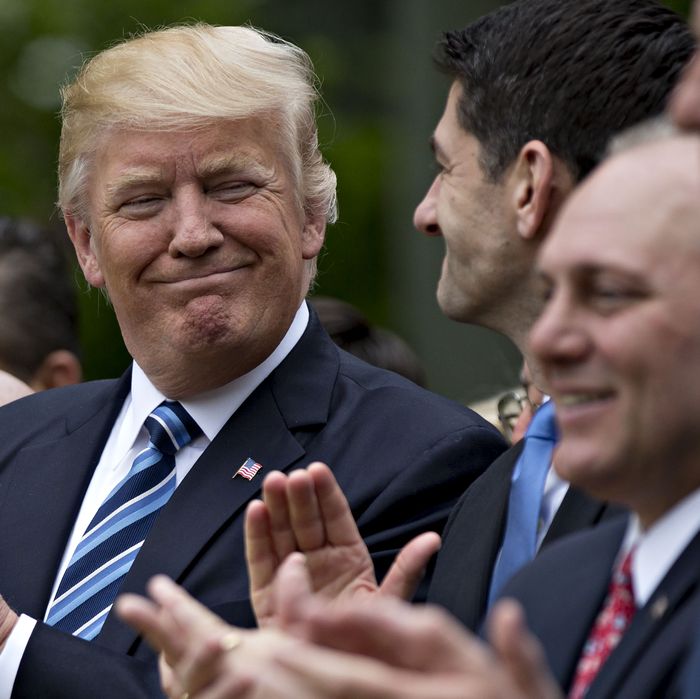 Let's make shutdowns great again.
Photo: Andrew Harrer/Bloomberg via Getty Images
If the federal government does shut down at midnight on Friday, which is looking increasingly likely, the Trump administration will make history. It will mark the first time the government runs out of funding while one party controls Congress and the White House, and also the first time the president of the United States has explicitly called for a shutdown:
President Trump tweeted that back in May, but several shutdown threats later, he's changed his tune. On Wednesday White House press secretary Sarah Huckabee Sanders insisted that despite Trump's tweet, "The president certainly doesn't want to shut down."
Yet, it doesn't appear that Trump is doing much to prevent that from happening. While Politico reported that he is "personally leaning on GOP lawmakers to fall into line" on a stopgap funding measure expected to get a vote in the House on Thursday, his public behavior only exacerbated the conflict. Last week Trump alarmed immigration hardliners when he essentially said he'd sign anything negotiators put in front of him. Then two days later, surrounded by conservative lawmakers, he made his infamous remarks about "shithole" countries. He spent the next few days arguing with senators about what he actually said, and with 48 hours left before the shutdown, he seemed far more focused on the unveiling of his "Fake News Awards."
It's hard to say who would take the blame for a shutdown, and if it would have any impact in the long run. However, there's concern among Republicans that the public will point the finger at the party that controls the government, and the president who canceled the Deferred Action for Childhood Arrivals program, then allegedly said something racist while rejecting a bipartisan solution.
Fortunately for Republicans, they have a plan to minimize the damage. As White House budget director Mick Mulvaney explained on Wednesday, this shutdown will be far less annoying than the 16-day funding gap presided over by President Obama in 2013.
"It's safe to say that a shutdown — a lapse in appropriation — under this administration would look very different than it did under the previous administration," Mulvaney said on Fox Business. "Not that anyone would want to go to the monuments today in Washington D.C., because it's miserably cold here, but if they wanted to under a government shutdown, those would be open. So a shutdown would look very different under a Republican administration than it would under a Democrat."
It seemed Mulvaney was referring to the Obama administration's decision to put barricades around national monuments in D.C., which outraged conservatives. While signs announcing that the Lincoln Memorial was closed due to government dysfunction were a potent symbol, GOP lawmakers and protesters staged their own scene, storming the barricades to let elderly veterans into the World War II memorial.
But the Trump administration may go beyond keeping open-air D.C. monuments open. According to the Washington Post, they're considering keeping hundreds of national parks open to the public in an effort to curb public anger over the shutdown. This was reportedly Mulvaney's idea, and Interior Secretary Ryan Zinke is working with the National Park Service to develop a plan.
This seems like fantastic news for the thousands of tourists planning to visit locations from the National Zoo to Yosemite in the coming days. But the parks would not be fully functional, and the lack of staffers could prove dangerous.
John Garder, senior director of budget and appropriations for the National Parks Conservation Association, called the idea "as frightening as it is bewildering, and it raises important policy and legal questions."
"Even if there were a law-enforcement presence, the safety and integrity of park resources would be at risk, not to mention the safety of visitors and the quality of their experience, if park personnel weren't there to ensure proper management and oversight," Garder said.
If the only consequence of keeping the parks open is Americans enjoying their vacations, the shutdown would still spark many other problems, like hampering FEMA's long-term disaster-recovery efforts and furloughing thousands of Centers for Disease Control and Prevention employees during a particularly harsh flu season.
But Republican lawmakers are already working to portray Democrats as the party endangering Americans. While Republicans engineered the crisis over funding the Children's Health Insurance Program (CHIP) during their push to pass tax cuts in the fall, House Speaker Paul Ryan came up with a plan to attach a six-year CHIP authorization to a stopgap spending measure that would keep the government open until mid-February.
They're also accusing Democrats of putting members of the military at risk by refusing to increase defense spending until they have a DACA deal. Ryan noted on Wednesday that more service members died in training accidents last year than in combat, suggesting that's the result of insufficient funding. He also said fatal accidents in the armed forces have doubled in the last decade, blaming outdated equipment.
"Real deadlines are occurring this Friday," Ryan said. "That is why it is unconscionable to me that [Democrats] would block funding for our military or cut off funding for these states that really will lose their funding for [CHIP] by playing these political games and tying them to unrelated issues."
Representative Warren Davidson, a Freedom Caucus member, added: "Essentially, they're picking 800,000 people whose families brought them here illegally versus funding our troops, and that's very frustrating."
But Ryan's strategy may be backfiring. In addition to encouraging the Freedom Caucus to demand a vote on a conservative immigration bill that could further derail DACA negotiations, defense hawks object to passing what would be a fourth continuing resolution, saying the leadership should make securing long-term military funding a top priority.
"I'm not gonna vote for a CR," said Senator Lindsey Graham, who negotiated the rejected DACA deal. "See, you're destroying the military here … [Lawmakers] owe it to the military to fix this problem and there is no way in the world to fix this problem without dealing with the DACA issue."
Politico reports that Ryan is trying to win over hawks in his caucus by promising that the military will get an even bigger boost (currently more than $700 billion this year) when a long-term funding measure finally comes up for a vote.
If House Republicans can resolve their disagreements and pass a continuing resolution on Thursday, the question will be whether Senate Democrats can remain united in their push for a DACA solution, even though a handful are facing reelection in states that voted for Trump.
"The overwhelming number in our caucus have said they don't like this deal and they believe if we kick the can down the road this time we'll be back where we started from next time," Senate Minority Leader Chuck Schumer said on Wednesday. "So there's very, very strong support not to go along with their deal."