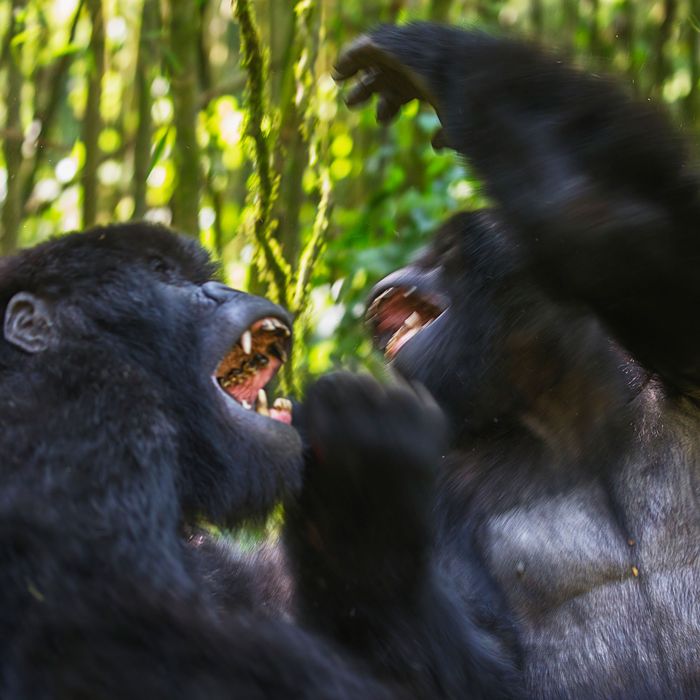 Photo: Jami Tarris/Getty Images
Today marks the premature publication of Michael Wolff's Fire and Fury, a tell-all about the Trump White House (maybe you've read an excerpt on this very website), and there are tons of juicy details about our very dumb president. Some of them seem too good to be true! And that's because they are.
Take, for instance, this tweet from known jokester and milkshake-duck inventor @pixelatedboat, who crafted a parody excerpt about the president demanding "the gorilla channel" and his lackeys scrambling to create bespoke primate content.
Unfortunately, some people are willing to believe anything, and the rumor of the White House gorilla channel is quickly becoming fact, even though it's … not.
Australian journalist Samantha Maiden grabbed the excerpt (without citing @pixelatedboat), and threw together her own tweet about the news.
Eric Garland, an erratic tweeter who has yet to clarify what exactly it is he does, also decided to spread the gorilla-channel thing to his 171,000-plus followers.
The gorilla thing spent all night traveling around the Twitter-sphere where hashtag-resistance types, having decided that the actual absurdity of a Donald Trump presidency wasn't enough, desperately wanted to imagine him screaming about gorillas.
Shadi Hamid, a Brookings Institute fellow with 111,000 followers, nabbed the screenshot and tweeted it out as if it were real.
Eventually, @pixelatedboat decided to change his display name on Twitter — which appears alongside the post every time someone retweets or embeds it — to clarify that it's a joke. In subsequent attached tweets, Hamid clarifies that he knows that it's a joke, and decided to rip it and repost in order to specifically avoid the name-change work-around. So, uh, that's a really stupid decision.
Anyway, here we are now, with the gorilla channel now somewhere between fact and fiction, hoax and joke. The gorilla channel never existed in real life, but it's now a meme anyway. Get in before it's gone.