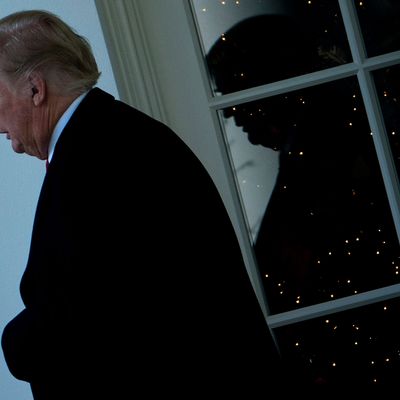 Dour Donny.
Photo: Brendan Smialowski/AFP/Getty Images
President Trump on Wednesday said something that would have set off sirens if spoken by any other American leader. "We are going to take a strong look at our country's libel laws," he said at a meeting of his Cabinet members. "Our current libel laws are a sham and a disgrace," he added. "We want fairness."
But because it was Trump, the proposal was barely worth a shrug. Not just because he lacks the power to change libel law, or because his authoritarian tendencies are no surprise a year into his presidency, but because Trump has said he was going to change libel law so many times and done nothing to act on it that no one takes him seriously anymore.
Trump revived the issue of libel law Wednesday in the wake of Michael Wolff's Fire and Fury, which Trump has called a "really boring and untruthful book" full of "made up stories." Winning a case against Wolff under current libel law would require Trump to prove that the author made defamatory statements with "actual malice," a high legal bar to clear.
Under the laws Trump would like to institute, proving libel would be less about meeting a high legal standard than about pleasing him. Over and over again, in both his time as a thin-skinned businessman and his time as a thin-skinned politician, Trump has shown a willingness to label anything he doesn't like libelous.
In February 2016, Trump, who rose to political prominence on the back of a false claim about Barack Obama, first signaled his intention to make it easier to punish the press for making false claims. It was an inevitable pledge for a well-known whiner whose fondness for libel suits was accompanied by a remarkable losing streak.
Speaking at an event in Fort Worth, Trump gleefully declared his intention to "open up our libel laws."
It's not entirely clear what story in the Times or Post, the two publications he mentions in his rant, set him off. But one of the culprits could be this Post article from a month prior on the failure of his Taj Mahal casino in Atlantic City. "If you write this one, I'm suing you," Trump told the reporter of the piece.
Months later, with the election just weeks away, the Times published a bombshell story about Trump's history of sexual assault. Trump immediately labeled it libelous and told a Miami TV station that U.S. libel laws should be more like those in the U.K, which, he said, give aggrieved public figures like himself a "good chance of winning."
Trump's first run-in with libel law after winning the presidency came in January, when his transition team issued a retraction demand to CNN for a story on then–Health Secretary Tom Price and his unethical stock purchases. The Trump team called the story "blatantly false," but its retraction demand confirmed the story and the demand was soon lifted. In Trumpland, "blatantly false" apparently means unflattering.
Trump's first mention of changing libel laws after his inauguration came in March of last year and was in response to general negative coverage by the Times. "Change libel laws?" he asked in a tweet.
A month after that, on ABC's This Week, Jonathan Karl asked long-gone chief of staff Reince Priebus if Trump intended to keep his promise to change libel laws. Priebus said the White House had "looked at" it. "Whether that goes anywhere is a different story," he added, sounding like a man who knew he was defending nonsense.
Unsurprisingly, it went nowhere. In October, Trump revived the issue once again after NBC published a report that said Secretary of State Rex Tillerson called Trump a moron when the president suggested increasing the size of the nuclear arsenal in the U.S. tenfold.
And now, after the publication of Fire and Fury, Trump is once again suggesting that First Amendment rights be curbed to protect his feelings. That's the bad news. The good news is that when it comes to libel laws, incessant complaining is about as far as Trump's power extends.