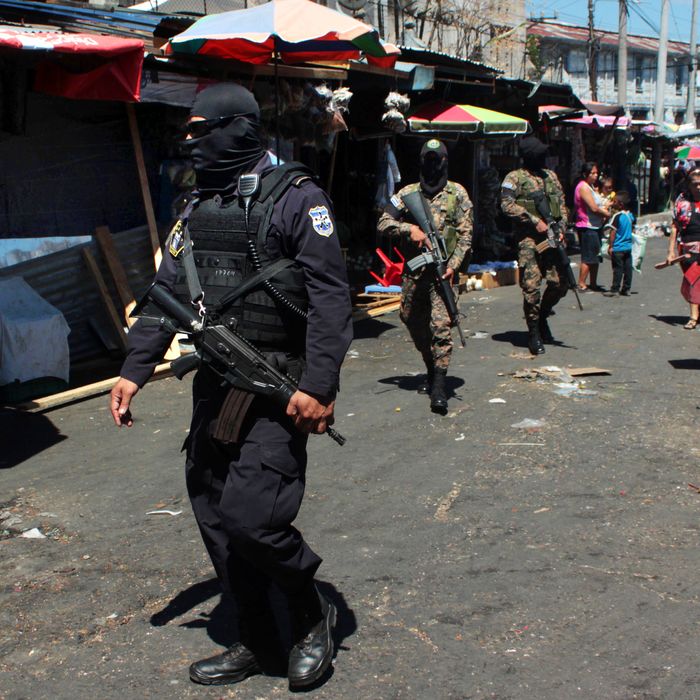 Police officers and soldiers patrol the streets of the historic center of San Salvador, on August 22, 2017.
Photo: Marvin Recinos/AFP/Getty Images
The Department of Homeland Security announced on Monday that it would be ending temporary protections for almost 200,000 Salvadorans who immigrated to the United States in 2001 after a pair of devastating earthquakes.
The drastic move means that the immigrants, many of whom own homes and businesses, and have children who are U.S. citizens, would need to leave the United States by September 2019 or risk being deported.
The decision was not unexpected, given a pattern that had emerged in recent months. The Trump administration announced in November that it would end temporary protection for 60,000 Haitians who fled their country's catastrophic 2010 earthquake; 5,300 Nicaraguans lost similar protections last year, and tens of thousands of Hondurans who came to America after 1998's Hurricane Mitch are probably next in line.
But Salvadorans are by far the largest group of several nationalities that were granted protection under the Temporary Protected Status law, which was signed by George H.W. Bush in 1990 (during a very different era of the Republican Party).
The George W. Bush and Obama administrations had extended the waivers several times since the Salvadorans' arrival. In 2016, the Obama administration cited El Salvador's endemic violence as one reason to do so; it has one of the highest murder rates in the world.
"There is nothing to go back to in El Salvador," Veronica Lanugas, one beneficiary of the program, told the New York Times in Spanish."The infrastructure may be better now, but the country is in no condition to receive us."
El Salvador had urged the United States to extend the protections. The country is plagued not only with violence, but with poverty and drought. And Salvadorans in the U.S. provide a significant boost to the economy by sending earnings back to their native country.
But President Trump, coming into office with his hard-line immigration rhetoric, has taken a different approach from his predecessors as part of his attempt to curb both illegal and legal immigration. His administration judged that El Salvador had sufficiently recovered from the earthquakes that sent citizens fleeing, and that the country's other, deep-seated problems weren't relevant to the matter at hand.
"Only Congress can legislate a permanent solution addressing the lack of an enduring lawful immigration status of those currently protected by TPS who have lived and worked in the United States for many years," a DHS statement read, according to the Washington Post.
Congress may end up doing just that before the temporary protection statuses run out for the threatened groups. But for President Trump to agree on such legislation, he would probably need an anti-immigration measure to compensate — perhaps the "diversity visa" lottery program he has repeatedly criticized.