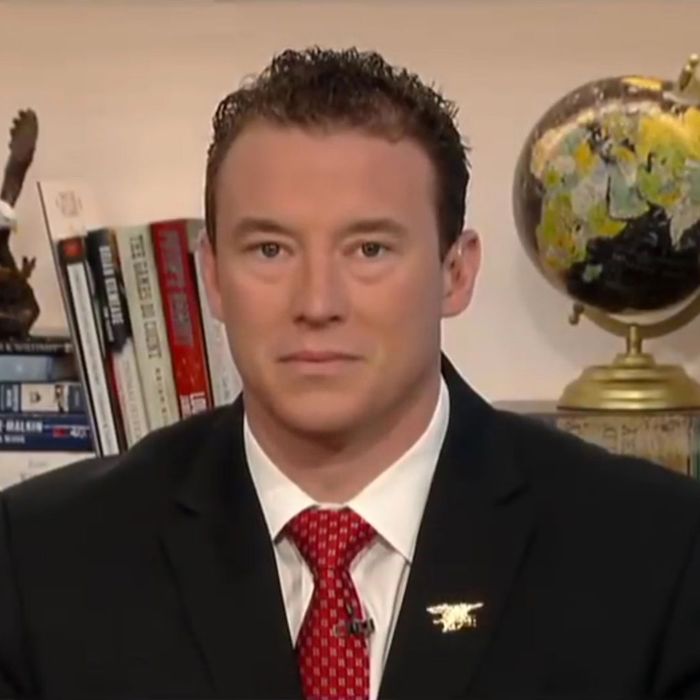 Former Trump administration official Carl Higbie.
Photo: Fox News
Carl Higbie, the now-former Trump administration official whose history of racist, anti-gay, and anti-immigrant comments were revealed by CNN Thursday, is very sorry for everything he said, he tweeted Friday morning.
A former Navy SEAL and right-wing talk radio host, Higbie was a Trump campaign surrogate in 2016. Last year, he was awarded for his work with an appointment to lead communications for the Corporation for National and Community Service (CNCS), which manages federal volunteer programs such as AmeriCorps.
But that came to an abrupt end Thursday after CNN published comments from his defunct internet radio show "Sound of Freedom." Among them were claims that black people have "lax" morals and black women "think that breeding is a form of employment."
In 2013, the year he made most of the comments, Higbie said Islam is "the ideology of a child molester." He later said he's not an Islamophobe because he doesn't fear Muslims. "I'm not afraid of them. I don't like them. Big difference," he said.
Higbie also advocated for punishing immigrants who cross the border between U.S. and Mexico by shooting them "in the face" and said, "I don't like gay people. I just don't."
There's more: He once said anyone on public assistance shouldn't be able to vote, insisted that Barack Obama is a "Muslim who was born in Kenya" and went after soldiers with PTSD.
"I'd say 75 percent of people with PTSD don't actually have it, and they're either milking something for a little extra money in disability or they're just, they honestly are just lying," Higbie said.
Higbie is now at least the third Trump administration official to resign after CNN published their inflammatory comments. In September, Energy Department official William Bradford resigned after it was revealed that he called Obama's mother a "fourth-rate p&*n actress and w@!re" in an internet comment. He was followed two months later by Homeland Security official Jamie Johnson, who made racist and xenophobic comments on his old radio show.