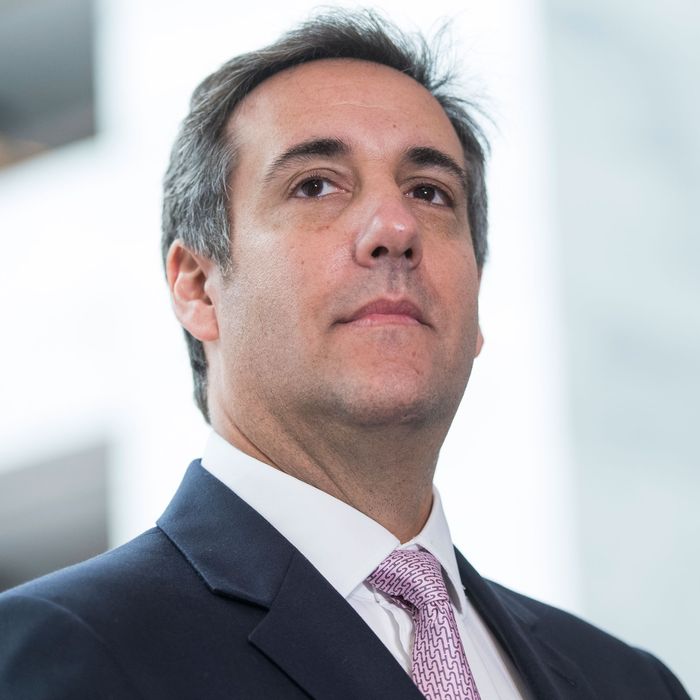 Michael Cohen marked the anniversary of the dossier's release with a pair of lawsuits.
Photo: Tom Williams/CQ-Roll Call,Inc.
One year ago, CNN reported that President Obama and President-elect Donald Trump had been briefed on allegations that the Russians have compromising information on the latter. A short time later, BuzzFeed published the source of those claims — a 35-page dossier compiled by a former member of Britain's secret intelligence service – and the "pee tape" entered the public imagination.
To mark the anniversary of BuzzFeed's controversial decision to publish the dossier in full, Ben Smith, the site's editor-in-chief, penned a New York Times op-ed titled, "I'm Proud We Published the Trump-Russia Dossier." "A year of government inquiries and blockbuster journalism has made clear that the dossier is unquestionably real news," Smith wrote, arguing that putting forth the unverified document in full gave Americans a far better understanding of the Russia probe and the actions of elected officials.
For all these reasons, the chorus of criticism of our decision to publish has faded. I haven't had a single person approach me to say, "I wish I hadn't read the dossier, and wish I had less insight into the forces at play in America." Do you feel that way? Does anyone?
The answer came a few hours later, when President Trump's personal attorney, Michael Cohen, announced that he had filed a defamation suit against BuzzFeed, and a separate suit against Fusion GPS, the political intelligence firm that commissioned the dossier. Both suits allege that the dossier contains "false and defamatory" claims that resulted in harm to Cohen's "personal and professional reputation, current business interests, and the impairment of business opportunities."
Cohen has denied the dossier's claim that he met with Russian operatives in Europe, and provided his passport to BuzzFeed in May 2017 in an attempt to dispel the accusations.
"It will be proven that I had no involvement in this Russian collusion conspiracy," Cohen told Bloomberg on Tuesday. "My name was included only because of my proximity to the president."
BuzzFeed posted the dossier with a note that its "allegations are unverified, and the report contains errors." But in the suit filed in New York State court, Cohen claims, "Even though Defendant Buzzfeed expressly acknowledged the unverified (and potentially unverifiable) nature of the Dossier's allegations, Defendant BuzzFeed published the un-redacted Dossier and the Article anyway — without attempting to determine the veracity of these reports with Plaintiff himself."
"The dossier is, and continues to be, the subject of active investigations by Congress and intelligence agencies," BuzzFeed said in a statement. "It was presented to two successive presidents, and has been described in detail by news outlets around the world. Its interest to the public is obvious. This is not the first time Trump's personal lawyer has attacked the free press, and we look forward to defending our First Amendment rights in court."
Fusion GPS, which was hired by Hillary Clinton and the Democratic National Committee to dig up dirt on Trump, was hit with a federal suit seeking $100 million in damages. The suit alleged that the firm and its founder, Glenn Simpson, "recklessly placed [the dossier] beyond their control and allowed it to fall into the hands of media devoted to breaking news on the hottest subject of the day: the Trump candidacy."
Cohen's lawsuit is likely to add fuel to Republican efforts to discredit the Russia investigations, though recent reports suggest the dossier isn't what sparked the FBI's interest in Trump's Russia ties. In testimony before the Senate Judiciary Committee that was leaked on Tuesday by Democratic senator Dianne Feinstein, Simpson suggested a whistle-blower from the Trump campaign went to the feds (though he may have been referring to adviser George Papadopoulos's accidental drunken admissions), and his lawyer claimed, "Somebody's already been killed as a result of the publication of this dossier."