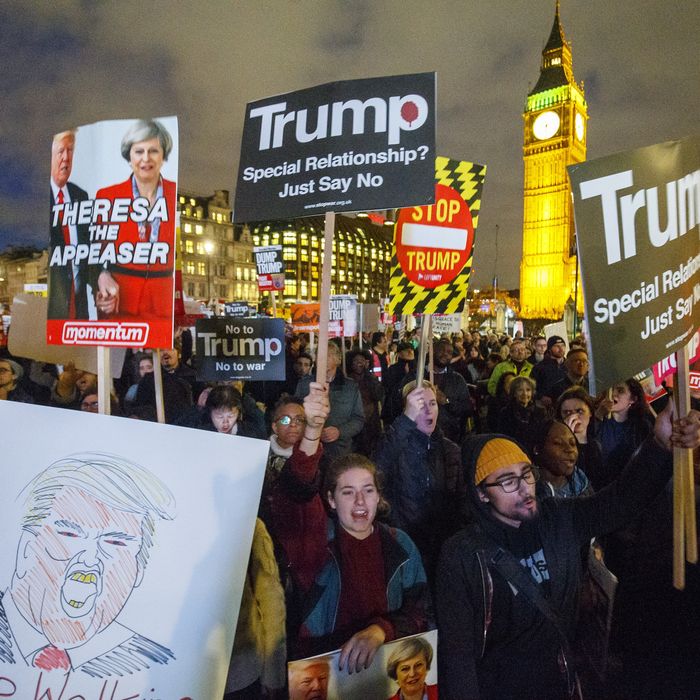 It's definitely about Obama, not this.
Photo: Anadolu Agency/Getty Images
During her visit to the White House last January, British prime minister Theresa May invited President Trump to visit the U.K. With Trump reportedly concerned about the mass protests his presence would undoubtedly spark in London, the trip was postponed several times. Following the outcry over Queen Elizabeth being forced to endure a meeting with Trump, and the president mocking the mayor of London on Twitter after a terror attack, the trip was downgraded from a "state visit" to a "working visit" — meaning no audience with the Queen or any of the related "pomp and flummery."
Last month, a date appeared to be set: Trump would head to London at the end of February for the opening of the new U.S. embassy. But on Thursday, reports began circulating that the visit had been canceled due to protest fears.
Around midnight, Trump confirmed the news on Twitter, but explained it was all President Obama's fault:
This development is particularly shocking because Obama hadn't been elected when the decision was made to move the embassy from Grosvenor Square to Nine Elms. The move was announced in October 2008, when George W. Bush was president.
"We looked at all our options, including renovation of our current building on Grosvenor Square," Ambassador Robert Tuttle explained at the time. "In the end, we realized that the goal of a modern, secure, and environmentally sustainable embassy could best be met by constructing a new facility."
In 2009 the Obama administration approved the sale of the old embassy building to the Qatari Diar Real Estate Investment Co., which plans to turn it into a hotel. The site's value was significantly reduced shortly before the sale when the British listed it as a building of historic importance, restricting development options.
But clearly, the State Department struck this "bad deal" so Trump would find out about it years later and be forced to cancel his London visit. Thanks, Obama!