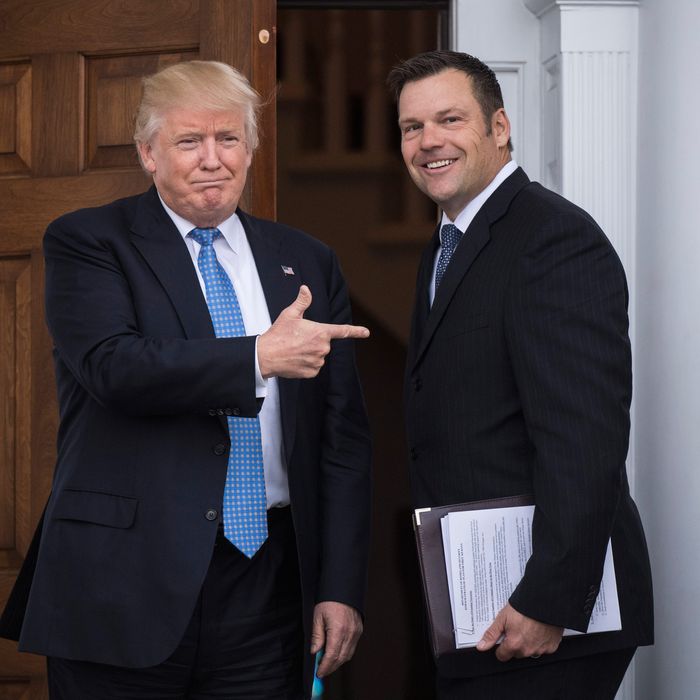 Trump and Kobach aren't giving up.
Photo: Jabin Botsford/The Washington Post/Getty Images
President Trump insists that there was widespread voter fraud during the 2016 election, but now we may never know if Hillary Clinton's 2.9 million vote lead mainly came from non-citizens and dead people (unless you listen to the countless experts and state officials who say there is no evidence of this).
On Wednesday, Trump suddenly disbanded the controversial commission he charged with investigating alleged voter fraud in May, saying legal challenges and resistance from the states prevented it from completing its task.
"Despite substantial evidence of voter fraud, many states have refused to provide the Presidential Advisory Commission on Election Integrity with basic information relevant to its inquiry," Trump said in a statement.
"Rather than engage in endless legal battles at taxpayer expense, today I signed an executive order to dissolve the commission, and have asked the Department of Homeland Security to review these issues and determine next courses of action," he added.
The news was announced on Wednesday evening, when it was sure to be overshadowed by the fallout from Steve Bannon trashing various Trump staffers and family members in Michael Wolff's forthcoming book. Politico reports that White House officials also tried to blame Bannon for the commission, with one saying, "This was his idea, and it was not a good one."
Whatever Bannon's role might have been in advocating for the commission, its work continued after he left the White House, and its mission appeared to be lending credence to the president's dubious claims about the size of his election victory.
The commission was plagued with problems from the start. While Vice-President Mike Pence served as chairman, he never seemed enthusiastic about the role. The driving force was Kansas secretary of State Kris Kobach, who served as vice-chairman and was one of the few state officials to support Trump's voter-fraud claims. When Kobach asked every state to provide information on voters — including political affiliations, criminal convictions, and the last four digits of their Social Security numbers — many state officials refused and a number of lawsuits were filed. The 11-person commission was even sued by one of its members; Democratic Maine secretary of State Matt Dunlap said he was being denied full access to the panel's records, and last month a federal judge agreed.
Democrats hailed the dissolution of the commission, which they called illegitimate from the start.
"The commission's entire purpose was to legitimize voter suppression," said Vanita Gupta, the former head of the Justice Department's Civil Rights Division. "The abrupt abandonment of the commission makes clear that it had become a thoroughly discredited body that could not find evidence of mass voter fraud."
However, Kobach suggested they were wrong to celebrate. "Anyone on the left needs to realize that by throwing the food in the air, they just lost a seat at the table," he said. Kobach insisted he is not disappointed by the president's decision, as Homeland Security will continue the work.
Dunlap, who said members received no heads-up that the commission was dissolving, said he finds the idea of the agency continuing the project "utterly alarming."
"Homeland Security operates very much in the dark," he said. "Any chance of having this investigation done in a public forum is now lost, and I think people should be, frankly, frightened by that."