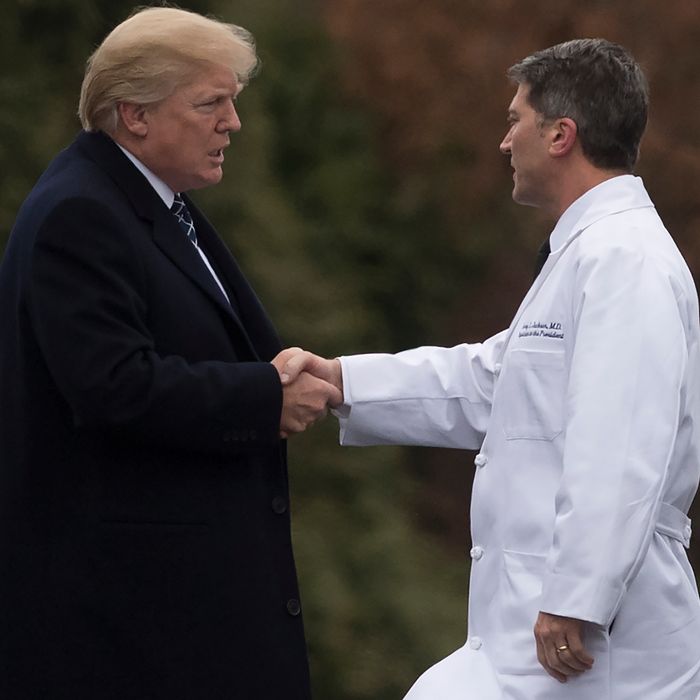 President Trump shakes hands with White House physician Rear Admiral Dr. Ronny Jackson, following Trump's annual physical.
Photo: Saul Loeb/AFP/Getty Images
President Trump underwent a physical exam on Friday and was determined to be in "excellent health," lead White House doctor Ronny L. Jackson announced in a White House statement that originally misspelled his name. Dr. Jackson, who also said that the physical "went exceptionally well," will go into more detail about the results of the exam during Tuesday's White House press briefing — though federal law still allows Trump to choose what the public does and does not hear about his health.
The statement released on Friday didn't contain any actual data or test results, nor did it detail what tests Trump underwent. It's thus not clear if the 71-year-old Trump, whose mental fitness to serve as president has been called into question in recent weeks, underwent any cognitive tests. The White House had previously indicated that Friday's exam would not include psychological testing, which was clearly unnecessary since Trump insisted on Twitter last week that he was a "very stable genius."
Trump's voluntary physical, which was conducted at Walter Reed National Military Medical Center, was his first known medical exam since becoming president, and may provide the first trustworthy account of basic facts about the president's health, like his weight, body-mass index, blood pressure, and height — which Trump has said is 6 ft. 3 in. and his driver's license says is 6 ft. 2 in.
During the 2016 presidential campaign, Trump's personal physician boasted that Trump would be "the healthiest individual ever elected to the presidency," but that seems highly unlikely considering Trump's weight issues, notoriously fast-food-centric diet, weekend golf-carting, and the fact that he is the oldest man to ever be elected president. Trump also has a red button in the Oval Office that he can use to summon the delivery of Diet Cokes, and reportedly drinks gallons of the stuff every week.