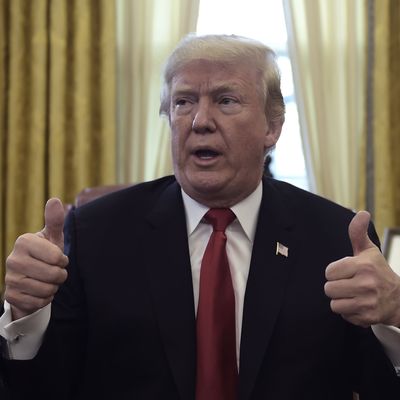 Totally sane and oh-so smart.
Photo: Brendan Smialowski/AFP/Getty Images
President Trump responded to proliferating concerns about his mental health on Saturday morning by oddly insisting he was not only "like, really smart" but also a "very stable genius." In a series of early-morning tweets, Trump claimed that Democrats and the media, perennially out to get him, were "taking out the old Ronald Reagan playbook and screaming mental stability and intelligence." Like any 71-year-old president with good mental health, Trump then went on to boast about his intelligence and mental stability:
Actually, throughout my life, my two greatest assets have been mental stability and being, like, really smart. Crooked Hillary Clinton also played these cards very hard and, as everyone knows, went down in flames. I went from VERY successful businessman, to top T.V. Star to President of the United States (on my first try). I think that would qualify as not smart, but genius….and a very stable genius at that!
Though Trump, in general, likes to think of himself as a genius, his Saturday morning rant was probably yet another outburst prompted by a segment of Fox & Friends:
The show was referencing speculation in the media about Trump's mental capacity in light of the revelations in Michael Wolff's new book, Fire and Fury: Inside the Trump White House. Wolff, who claims to have had unparalleled access to the White House over much of the last year, ultimately concluded that none of Trump's staff believes he is capable of functioning in his job as president, and Wolff's reporting in Fire and Fury details incompetence, incoherence, and indifference by Trump and members of his inner circle.
Later on Saturday, Trump was asked why he sent the new tweets during a press conference at Camp David, and in response, he listed his academic and life accomplishments:
Though this was the first time Trump responded to the mental fitness question, he, the White House, and the GOP have already been attacking the book. Trump lawyers tried, unsuccessfully, to threaten the book's publisher this week, and on Thursday, White House press secretary Sarah Huckabee Sanders called the suggestion that Trump is mentally unwell "disgraceful and laughable." Trump has also said that the book is a "work of fiction," and on Friday night, he retweeted a GOP collection of criticism of Wolff and added his own ridicule of the author and one of the book's primary sources, former White House chief strategist Steve Bannon:
The GOP plans to keep trying to discredit the book over the weekend, though they may need to rewrite their talking points to help party officials defend Trump's "very stable genius" claim — particularly since his bizarre self-defense will just bring more attention on the subject.
Trump is scheduled to be examined by White House physician Dr. Ronny Jackson at Walter Reed National Military Medical Center on January 12, the president's first formal medical exam by a government doctor since taking office. A readout of that exam will then be released to the public; previous exams of presidents have included information about cerebellar function, motor functions, and sensory systems, but it's not yet clear if Trump's exam will. The only medical data Trump has released to the public thus far was a thin 2016 summary of a medical exam from the president's personal physician, Dr. Harold Bornstein, who claimed at the time that Trump would be "the healthiest individual ever elected to the presidency."
The medical exam was scheduled in early December one day after Trump was seen slurring his speech during a policy address, but at the time, the White House blamed that incident on a dry throat.
This post has been updated to reflect Trump's additional comments on Saturday.