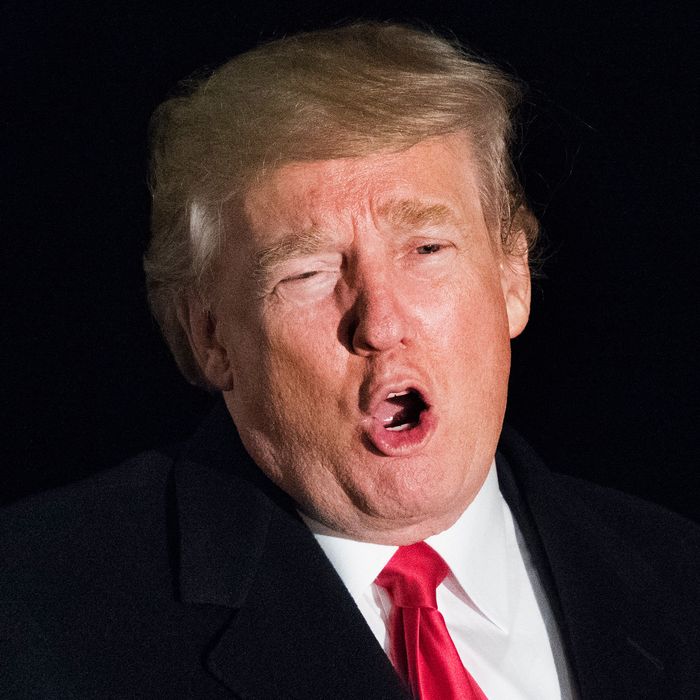 "L'état, c'est moi."
Photo: Ron Sachs - Pool/Getty Images
Donald Trump is an instinctual authoritarian. He is also a deeply angry, petty, and vindictive human being (or, in scientific terms, "an asshole"). This combination of character traits has made "President Erupts at [Insert Administration and/or Justice Department Official] for Reminding Him That the DOJ Is Not His Private Detective Agency" a staple of American political journalism over the past year.
Last May, said official was Jeff Sessions. Shortly after learning that the Justice Department had appointed a special counsel to investigate his campaign's ties to Russia, Trump "berated" the attorney general for his "disloyal" decision to recuse himself from that probe. Trump reportedly "told Mr. Sessions that choosing him to be attorney general was one of the worst decisions he had made, called him an 'idiot,' and said that he should resign." Around the same time, Trump "fumed" at White House counsel Don McGahn, then–chief strategist Steve Bannon, and chief of staff Reince Priebus, ostensibly for declining to enthusiastically endorse his view that Sessions's recusal made no logical sense. One month later, after Rod Rosenstein (ostensibly) failed to denounce "fake news" reports about the Trump administration with sufficient vigor, the president castigated the deputy attorney general over Twitter.
On Monday afternoon, we were treated to two vital new additions to this genre.
The first is set in the immediate aftermath of Trump's firing of James Comey. On the day Trump fired his FBI director — without a word of warning, in a written note delivered by his personal bodyguard to Comey's mailbox at the bureau's headquarters in D.C. — Comey was giving a talk to FBI employees in Los Angeles. The FBI director learned of his termination when he saw the breaking news flash across a television monitor hanging behind his audience. Comey initially laughed, and congratulated his colleagues on "a fairly funny prank."
This may strike the average observer as a needlessly humiliating way to go about firing someone. But in the president's view, Comey's firing wasn't nearly humiliating enough. As NBC News reports:
The day after President Donald Trump fired James Comey, he became so furious watching television footage of the ousted FBI director boarding a government-funded plane from Los Angeles back to Washington, D.C. that he called the bureau's acting director, Andrew McCabe, to vent, according to multiple people familiar with the phone call.




Trump demanded to know why Comey was allowed to fly on an FBI plane after he had been fired, these people said. McCabe told the president he hadn't been asked to authorize Comey's flight, but if anyone had asked, he would have approved it, three people familiar with the call recounted to NBC News.




The president was silent for a moment and then turned on McCabe, suggesting he ask his wife how it feels to be a loser — an apparent reference to a failed campaign for state office in Virginia that McCabe's wife made in 2015.




McCabe replied: "OK, sir." Trump then hung up the phone.
The president felt so much contempt for James Comey — for refusing to pledge personal loyalty to him, or to drop an investigation into his friends — that he wanted the government to strand Comey in Los Angeles. Even though the FBI director had flown to California on government business — and an FBI plane that needed to come back to Washington was already in L.A. — Trump was furious to learn that Comey would not be forced to book a commercial flight.
Then, when Comey's acting replacement declined to endorse the idea that the FBI had a responsibility to execute Trump's petty act of vengeance, the president was so incensed, he insulted the acting FBI director's wife.
McCabe resigned from the FBI on Monday, after weeks of lobbying by the White House for his ouster. Multiple reports suggest McCabe's departure was not voluntary.
Meanwhile, Bloomberg reported Monday afternoon that Trump "erupted in anger while traveling to Davos after learning that Associate Attorney General Stephen Boyd warned that it would be 'extraordinarily reckless' to release a classified memo written by House Republican staffers."
That memo outlines an alleged anti-Trump conspiracy within the FBI. The details reportedly center on how federal law enforcement went about securing a FISA warrant to spy on Trump campaign aide Carter Page. Congressional Republicans have suggested that the FBI relied on opposition research funded by Hillary Clinton in making its case to the FISA court, without disclosing that fact. The Congressional GOP has refused to share the memo in question with Justice Department staff. And so, the DOJ is concerned that it may contain highly sensitive information.
But Trump found the idea that the DOJ would prioritize keeping state secrets — over giving the president's allies more fodder with which to discredit the FBI — outrageous. And John Kelly, the supposed "adult" in the Oval Office, scolded the Justice Department for causing the president displeasure.
For Trump, the letter was yet another example of the Justice Department undermining him and stymieing Republican efforts to expose what the president sees as the politically motivated agenda behind Special Counsel Robert Mueller's probe.




…Kelly held separate meetings or phone calls with senior Justice Department officials last Monday, Tuesday and Wednesday to convey Trump's displeasure and lecture them on the White House's expectations, according to the people. Kelly has taken to ending such conversations with a disclaimer that the White House isn't expecting officials to do anything illegal or unethical.




After Trump's strong reaction on Air Force One over the Boyd letter, White House officials, including Kelly, sprang into action again, lashing Justice Department officials Thursday over the decision to send the letter, according to the people.
Donald Trump believes that all federal law-enforcement agents are his subordinates, and that their first loyalty is not to the law or Constitution or the American people — but to Donald Trump.
And the Republicans in Congress, and the president's inner circle, are now doing their best to affirm that belief.