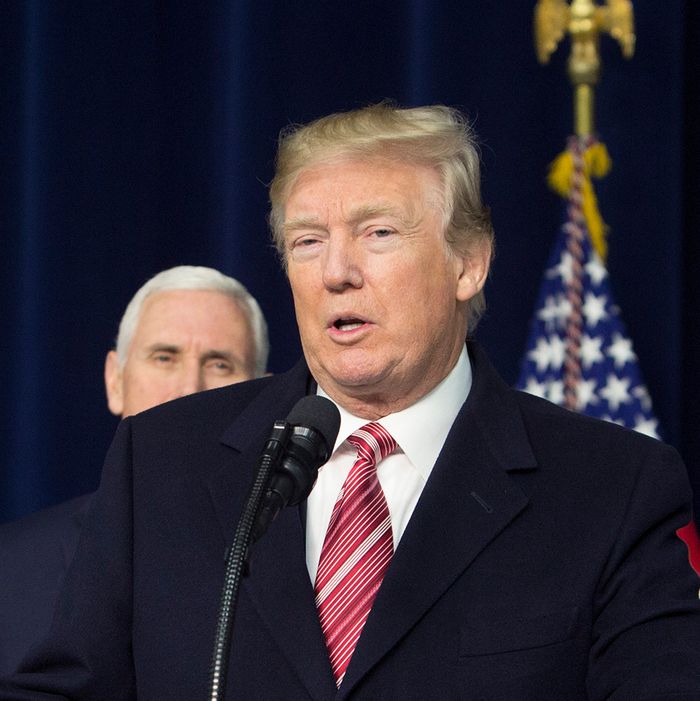 President Trump, GOP and cabinet officials, and Mitch McConnell's blue jeans all shared the stage on Saturday at Camp David.
Photo: Chris Kleponis-Pool/Getty Images
President Trump took questions from the media during a joint press conference with GOP leaders and cabinet officials on Saturday at Camp David, weighing in on everything from the crisis with North Korea and the Russia investigation to the border wall and future of Attorney General Jeff Sessions. Trump, several members of his cabinet, and GOP leaders were all there for a legislative summit to go over common goals for the rest of the year, and the attendees all appeared on the sidelines for an impromptu press availability, which surely doubled as a show of unity after what has been a very rough week for the White House.
Below are the most consequential remarks Trump made during the Q&A with reporters:
North Korea
Trump said he was open to speaking on the phone with Kim Jong Un, less than a week after boasting on Twitter that he had a bigger, more powerful nuclear button than the North Korean leader. "Sure, I always believe in talking," Trump said, also claiming that his leadership was somehow responsible for North Korea recently reaching out to South Korea to discuss the upcoming Olympics and other issues. (The two countries will begin rare meetings next week.) Trump said that North Korea's government knows he is "not messing around," but that if talks lead to a solution, "that would be a great thing for all humanity."
The Russia Investigation
"Everything that I've done was 100 percent proper, that's what I do is I do things proper," the president insisted when asked about a Thursday New York Times story, which reported that Trump had ordered White House counsel Don McGahn to pressure Attorney General Jeff Sessions not to recuse himself from the investigation into Russia's 2016 election meddling. Trump called the Times story "way off, or at least off," and when asked to explain how it was wrong, only offered a characteristic (and likely empty) tease of "you'll find out." Asked if he still supported Sessions — whose recusal preceded the appointment of special counsel Robert Mueller to lead an independent investigation, and whose job was rumored to be at risk this past week — Trump said that he did.
As he has in the past, Trump wholly dismissed the Russia investigation, insisting that there had been no collusion, or evidence of collusion found, between his campaign and the Kremlin. He also repeatedly attempted, without citing any evidence, to shift the collusion blame on Hillary Clinton and Democrats instead.
Trump additionally seemed to say that he was willing to meet with Mueller if the special counsel requested it, but he tried to paint the whole investigation as an embarrassment for the country. Claiming his administration has been "very open" to Mueller's investigators, Trump made it clear he wanted the ordeal to end:
When you've done nothing wrong, let's be open and get it over with, because honestly, it's very, very bad for our country and it's making us look foolish. This is a country that I don't want looking foolish, and it's not going to look foolish as long as I'm here. So we've been very open and we just want to get that over with.
It still remains unclear, however, just how far Trump is willing to go to make that happen.
Michael Wolff and Trump's Mental Fitness
Fire and Fury author Michael Wolff was also a repeat target during the press conference. A reporter asked Trump why he felt the need to declare himself a "very stable genius" on Twitter Saturday morning. After listing his life accomplishments, Trump continued his attacks on Wolff, whose scathing new book details crippling dysfunction and, in Trump's case, incoherence, within the White House over the course of last year. The book, which Trump called a "work of fiction," has led to renewed discussion of Trump's mental capacity to be president (and Trump's subsequent early-morning tweetstorm).
As he, the White House, and the Republican Party have done for the past few days, Trump sought to discredit Wolff, championing "fake news media" criticism of the author and remarking that it was "a disgrace" that Wolff could write and say the things he did — something Trump blamed on America's "weak" libel laws:
The president again said that Wolff never interviewed him, as the author claims, and tried to blame Wolff's level of access to the White House and its staff on Steve Bannon, Trump's now excommunicated former chief strategist, whose quotes feature heavily in the book.
"I guess 'Sloppy Steve' brought him into the White House a lot," Trump suggested, using his new derogatory nickname for the notoriously unkempt Bannon. "That's why Sloppy Steve is looking for a job."
In an interview with The Hollywood Reporter published on Saturday, Wolff said that according to his sources still inside the White House, Trump has been flipping out over the book. "I hear that the president is very angry, or, let me be precise: I hear that he is truly bouncing off the walls."
DACA, the Border Wall, and Immigration
President Trump once again linked his support for protecting immigrants in the Deferred Action for Childhood Arrivals program to whether or not a legislative fix for the program includes funding for his wall on the southern border with Mexico and new restrictions on the country's immigration system. The Trump administration asked Congress for $18 billion both to install and bolster sections of wall along the border on Friday, and on Saturday, Trump reiterated his campaign promise that Mexico will ultimately pay for the wall, despite the fact that Mexico has repeatedly said it will not.
"I believe Mexico will pay for the wall," Trump said. "I have a very good relationship with Mexico. But yes, in some form, Mexico will pay for the wall."
This Year's Midterm Elections
When asked, President Trump said that he would not challenge GOP incumbents up for reelection this year before obviously looking in the direction of Senate majority leader Mitch McConnell. Trump said he was excited for the campaigning to start, vowed to be "very involved," and lamented the party's recent loss in Alabama — blaming it on Steve Bannon, even though Trump ultimately endorsed and effectively campaigned for loser and alleged sexual predator Roy Moore.
Trump also implied he would be a big help, saying that his poll numbers "have gone way up," though it's not clear what poll numbers he was referring to.