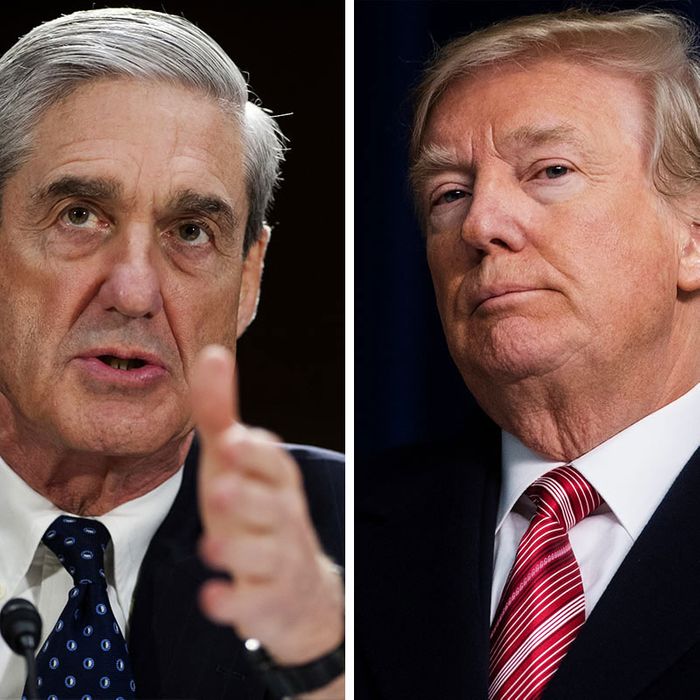 Everyone can stop wondering when President Trump will try to fire Special Counsel Robert Mueller, because it appears that already happened last summer. Four sources tell the New York Times that Trump ordered Mueller's firing in June, amid reports that the special counsel was looking into whether he attempted to obstruct justice. However, Trump backed down after White House counsel Don McGahn threatened to quit.
When McGahn received Trump's order, he reportedly refused to ask the Justice Department to dismiss Mueller. The special counsel can only be removed for cause, and McGahn didn't find the case Trump laid out very convincing. Per the Times:
First, [Trump] claimed that a dispute years ago over fees at Trump National Golf Club in Sterling, Va., had prompted Mr. Mueller, the F.B.I. director at the time, to resign his membership. The president also said Mr. Mueller could not be impartial because he had most recently worked for the law firm that previously represented the president's son-in-law, Jared Kushner. Finally, the president said, Mr. Mueller had been interviewed to return as the F.B.I. director the day before he was appointed special counsel in May.
Justice Department ethics officials cleared Mueller to lead the probe into possible coordination between Russia and the Trump campaign after his former employer said he did not personally work with anyone connected to the case. The Washington Post reports that there was no dispute over golf-club dues, Mueller merely resigned from the club in 2011, then "sent a letter requesting a dues refund in accordance with normal club practice and never heard back."
Legality aside, McGahn reportedly argued that firing Mueller would be catastrophic for Trump's presidency, as it would spark more questions about obstruction of justice. A source told the Post that McGahn didn't deliver the resignation threat directly to Trump, but he was serious. McGahn told White House officials that Trump would not follow through on ordering Mueller's firing on his own, and the president backed off.
Since Attorney General Jeff Sessions recused himself from the Russia probe (despite McGahn's efforts to convince him to stay on), Deputy Attorney General Rod Rosenstein would have to fire Mueller. In December he told the House Judiciary Committee that no one had asked him to remove the special counsel, and he would not act on such an order unless it was justified. "If there were good cause, I would act. If there were no good cause, I would not," Rosenstein told the committee.
Trump reportedly discussed firing Rosenstein as well, and putting Rachel Brand, the number-three person at the Justice Department, in control of the Russia probe.
In early summer, there were plenty of signs that Trump's anger at Mueller was rising. Former FBI director James Comey testified before the Senate Intelligence Committee about the circumstances of his firing on June 8, and about a week later Mueller asked to interview several top White House officials about their conversations with the president.
On June 12 Christopher Ruddy, Trump's friend and Newsmax CEO, told PBS NewsHour's Judy Woodruff, "I think he's considering perhaps terminating the special counsel. I think he's weighing that option." He added that he thought that would be a "very significant mistake."
Days later Trump fumed about the Russia probe on Twitter, and seemed to confirm that he was being investigated for obstruction.
Now the Post reports that behind the scenes, Trump was so angry at Mueller that then–White House strategist Steve Bannon and then–chief of staff Reince Priebus grew "incredibly concerned" that he was going to fire the special counsel. A source said they enlisted others to help dissuade Trump, and in one meeting with fellow advisers Bannon raised concerns that if Trump fired Mueller, his cabinet might try to use the 25th Amendment to take him out of office.
At the time, Trump's legal team was taking an adversarial approach to Mueller's investigation. That changed in mid-July when attorney Ty Cobb was hired to oversee the White House response to the Russia probe, according to the Times. Now the plan is to cooperate with Mueller, and bring an end to the Russia matter as quickly as possible. While Trump never stopped deliberating about whether to fire Mueller, the president's attorneys have placated him by continuing to claim that the investigation will soon be wrapped up (Cobb has been widely mocked for constantly offering new and unrealistic predictions for the probe's end date).
In response to the report that Trump attempted to fire Mueller, Cobb said, "We decline to comment out of respect for the office of the special counsel and its process."
On Friday morning, Trump told reporters covering his trip to Davos, Switzerland, that the story is, "fake news, folks. Fake news. Typical New York Times fake stories."
While Trump's reported order to fire Mueller is reminiscent of President Nixon's Saturday Night Massacre, it's unclear what impact it might have. The Times reports that Mueller learned about his own attempted firing as he interviewed current and former White House officials, but presumably it's just one entry on a long list of times Trump may have obstructed justice.
The incident, coupled with the recent report that FBI Director Christopher Wray resisted White House pressure to fire his deputy and threatened to resign, does give us some insight into who really wields power in the Trump White House. As Lawfare blog notes:
The fact that Trump could not get his own White House counsel to execute his will on this point shows that the president really is constrained in his apparent desire to shut down the Russia investigation. Particularly in combination with the Axios story about Wray, the incident paints a picture of a president who desperately wants to corrupt the justice system but just can't get it done: malevolence tempered by incompetence, one might call it.
We're not in Nixon territory yet, but it's not for lack of trying.
This post has been updated throughout.