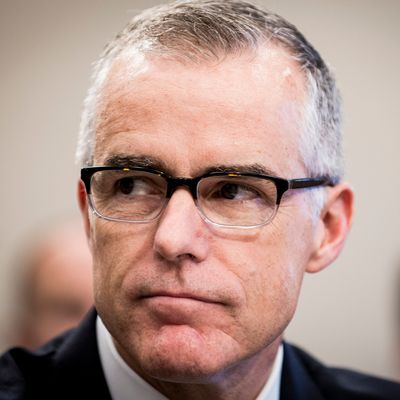 Trump's chat with McCabe went about as well as his request for Comey's loyalty.
Photo: Pete Marovich/Getty Images
President Trump appears to be very concerned about political bias within the FBI — but only if it isn't in his favor. The Washington Post reported on Tuesday that shortly after Trump fired FBI director James Comey, who claims the president sought a loyalty pledge, the president asked his replacement whom he voted for in the 2016 election.
Acting FBI director Andrew McCabe said he didn't vote — not the worst answer he could have given — but it seems that wasn't what the president wanted to hear. During the Oval Office meeting Trump expressed his anger toward McCabe about the nearly half a million dollars that Virginia governor Terry McAuliffe's political action committee donated to his wife's unsuccessful state Senate bid, several months before McCabe was promoted to deputy FBI director.
Though the donation was completely legal and McCabe followed FBI ethics protocols, this caused a frenzy on the right because McAuliffe has close ties to the Clintons. McCabe eventually recused himself from the investigation into Clinton's email server, and the Justice Department's inspector general is looking into his conduct.
McCabe may seem like an odd pick to even temporarily replace Comey, since accusations about his pro-Clinton bias started before the election. But McCabe was next in line for the position, and one White House official explained, "There were no immediate better choices." McCabe was among the four people interviewed for the permanent position, which eventually went to current FBI director Christopher Wray, but it was clear he was never under serious consideration.
McCabe reportedly found the conversation "disturbing," and others in the FBI were upset that the president would attack a career civil servant for his wife's political affiliations. Unsurprisingly, the exchange has reportedly drawn the attention of Special Counsel Robert Mueller.
Trump went on to publicly attack McCabe on several occasions, falsely claiming that the donations to his wife's campaign came from Hillary Clinton. Another White House official said Trump frequently complained about McCabe in private, labeling him a Democrat.
The president's issues with McCabe became more relevant yesterday, when Axios reported that Attorney General Jeff Sessions has been pressuring Wray to fire the deputy director, prompting Wray to threaten to quit. The president denied that Wray threatened to resign on Tuesday.
"No. He didn't at all. He did not even a little bit," Trump said during an unrelated Oval Office event. "He's going to do a good job."
A statement from the White House on Monday night seemed to confirm that Trump administration officials are pushing for a staff shake-up at the FBI, saying the president believes "politically motivated senior leaders, including former Director Comey and others he empowered, have tainted the agency's reputation for unbiased pursuit of justice."
However, when asked to elaborate the next day, White House press secretary Sarah Huckabee Sanders would only say: "We have 100 percent confidence in Director Wray. If anybody will make that decision, it's the director. We'll leave that in his hands."
While Wray may be resisting calls from the White House to fire particular staffers, he is making changes to the top positions at the FBI. The McCabe situation should resolve itself, as he's expected to retire in March. Wray confirmed on Tuesday that his chief of staff James Rybicki, who held the same position under Comey, will be "leaving the FBI to accept an opportunity in the private sector." Rybicki had been criticized by Republicans for his ties to Comey, and his role in drafting the statement that cleared Clinton of any wrongdoing in the email investigation. He'll be replaced by Zachary Harmon, a colleague from Wray's old law firm.
There are also reports that Dana Boente, the acting head of the Justice Department's national security division, will be the FBI's next general counsel. James Baker, who was close to Comey, had held the position for several years before he was reassigned by Wray late last month. Boente, a respected longtime federal prosecutor, replaced Acting Attorney General Sally Yates when she was fired over Trump's travel ban. When Jeff Sessions was sworn in, Boente became deputy attorney general before moving to the national security division. The Post notes that some might see him as a Trump loyalist, though he was appointed U.S. attorney by President Obama, since he was willing to defend the travel ban in court after Yates refused.
It's common for the new FBI director to bring on his own team, so Wray's staffing changes don't necessarily mean he's bowing to pressure from the White House. It is not, however, common for the president to question the acting FBI director's political affiliations amid reports that he fired his predecessor for insufficient loyalty.