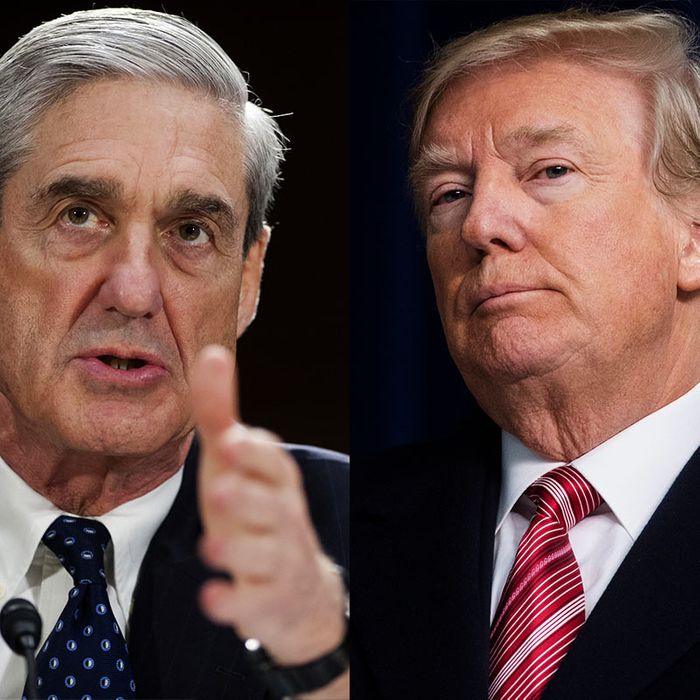 In a surprise, Trump announced he was agreeing to an interview with the special counsel — under oath.
In a surprise announcement during a surprise presidential appearance at a White House press briefing, President Trump indicated he is willing to be questioned under oath by Special Counsel Robert Mueller, who has been working his way through interviews with top Trump administration and campaign officials.
President Trump, who has wavered in his willingness to sit down with investigators examining Russian interference with the campaign that placed him in the White House, said Wednesday that he was "looking forward" to meeting with special counsel Robert S. Mueller III.

"I would do it under oath," Trump told reporters.




Asked when the meeting would happen, he said, "I guess they're talking about two or three weeks, but I would love to do it."




"We'll see what happens," Trump said. "When they have no collusion, and nobody has found any collusion, at any level, it seems unlikely that you'd even have an interview."
Actually, according to a report from Bloomberg, Mueller may not question Trump about campaign "collusion" with Russians, but rather about allegations of obstruction of justice while in office:
As part of his investigation, Mueller is focusing on whether Trump obstructed justice when he removed his national security adviser, Michael Flynn, and fired FBI Director James Comey, according to two U.S. officials.




The main topics of an interview would be those two decisions early in his presidency, according to a person with knowledge of the matter.
In any event, given the president's habits of selective memory and his mood swings, his staff — not to mention his lawyers — are bound to be very nervous about this interview. If leading up to the encounter Trump seems to be trying to discredit Mueller, it will be a pretty good sign that he and his advisers aren't as confident as he sounded today.