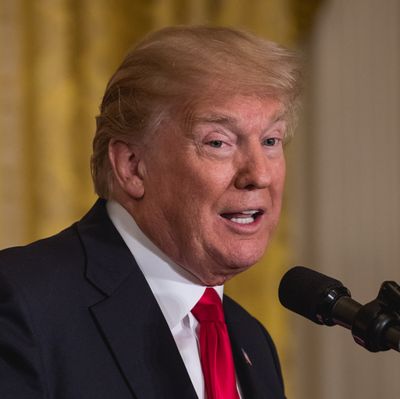 Hey, it could happen.
Photo: Cheriss May/NurPhoto via Getty Images
President Trump sat down for a 45-minute interview with The Wall Street Journal on Thursday, which, unsurprisingly, yielded many bizarre comments that are meant to be taken seriously, but not literally. (We hope. When asked about the future of his relationship with Steve Bannon, he said, "I don't know what the word permanent means.")
The most puzzling remarks concerned North Korean dictator Kim Jong-un. "I probably have a very good relationship with Kim Jong-un," Trump told the paper. "I have relationships with people. I think you people are surprised."
Indeed, people were surprised, and not just at the fact that Trump has connections of some nature with other human beings. Trump has dubbed the North Korean leader "Rocket Man," and called him a "maniac," a "madman," a "bad dude," and a "sick puppy." In November he mocked his looks, suggesting he's "short and fat," and ten days ago he declared his "nuclear button" is "much bigger & more powerful one than his, and my Button works!" In addition to threatening the U.S. with nuclear annihilation on numerous occasions, Kim has gone after Trump personally as well, vowing in September to "tame the mentally deranged U.S. dotard with fire."
So why did Trump suggest he and Kim might be pals now? Here are some theories.
1) Trump talked to Kim and they patched things up.
Trump's remarks suggested a turnaround so startling that the Journal asked if the president has had some communications with the dictator that the world is not aware of. Trump offered this cryptic reply: "I don't want to comment on it. I'm not saying I have or haven't. I just don't want to comment."
The U.S. has not had formal talks with North Korea in a decade. In May Trump said he would be "honored" to meet with Kim, and Secretary of State Rex Tillerson has indicated that there are back-channel discussions between the two countries, saying, "We have lines of communication to Pyongyang — we're not in a dark situation, a blackout."
But in all likelihood, Trump did not pick up the phone and give Kim a call. When asked if the president has spoken to the dictator, a senior administration official told CNN, "That's not something we would discuss but we are not aware this contact has occurred."
2) Trump is signaling that he's willing to negotiate.
Trump's remarks were published under the headline "Donald Trump Signals Openness to North Korea Diplomacy in Interview," which gives the impression that they were part of some coherent strategy.
It's possible Trump is trying to send the message that he embraces North Korea's new attempts at diplomacy. After Kim expressed a desire for "peaceful resolution with our southern border" in his New Year's address, the two sides engaged in talks for the first time in years.
Trump said he thinks it's good that North Korea will be participating in the upcoming Olympic games in South Korea, and that U.S.–South Korea military exercises have been postponed until after the games. But he acknowledged suspicions that North Korea is just trying to drive a wedge between the U.S. and its ally South Korea.
"If I were them, I would try," Trump said. "The difference is I'm president, other people aren't," he added. "And I know more about wedges than any human being that's lived."
3) Some of his best friends are his bitter enemies.
Later in the interview, Trump suggested that even if he and Kim don't have a great relationship right now, that may change very soon. Not because they've talked, or because that's the new U.S. strategy — that's just the strange nature of being friends with Trump.
"You'll see that a lot with me," he said of his mean tweets, "and then all of the sudden somebody's my best friend. I could give you 20 examples. You could give me 30. I'm a very flexible person."
To give just one example, during the campaign, Trump branded his opponent Senator Ted Cruz as "Lyin' Ted," questioned his citizenship, threatened to "spill the beans" on his wife, suggested she's ugly, and insinuated that his father may have helped kill JFK. Cruz ultimately decided to endorse Trump, and now he attacks other Republicans for their disloyalty to the president.
President Trump and Rocket Man will be admiring the size of each other's nukes in no time.