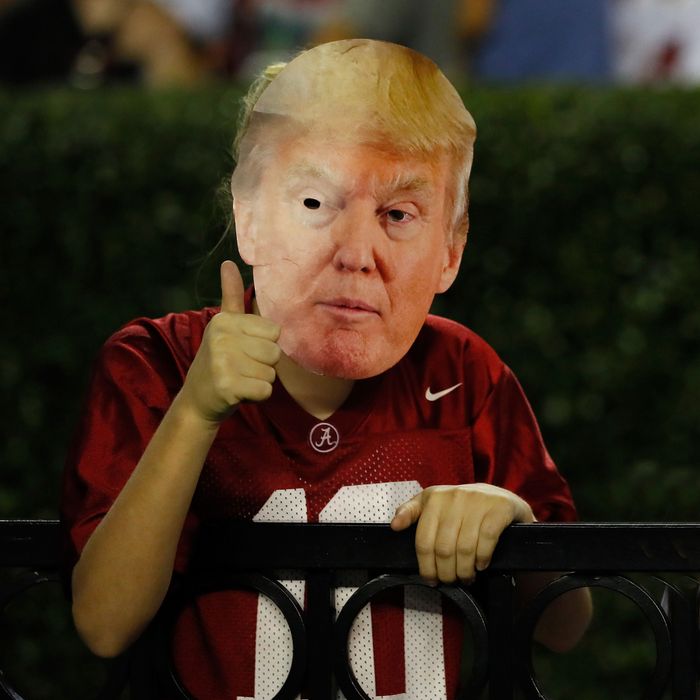 Roll Tide.
Photo: Kevin C. Cox/Getty Images
President Trump will miss Hannity next Monday night, choosing instead to attend college football's national championship game in Atlanta, according to the AJC.
It will be Trump's first college football game since he showed up at the Army-Navy game a month after he was elected and complained about the poor quality of play.
That shouldn't be an issue Monday, when the University of Alabama and the University of Georgia meet at Mercedes-Benz Stadium.
But Trump might not be in the for the warm reception the White House is clearly expecting. On Tuesday, White House Press Secretary Sarah Sanders bragged about the schools being "in the heart of Trump country" and it's easy to imagine that played into Trump's decision to attend (along with the halftime performance by Kendrick Lamar).
While it's true that Alabama and Georgia went for Trump in the 2016 presidential election, he's not exactly beloved in either state. Clarke County, Georgia, home to the UGA, went for Hillary Clinton in 2016 by a nearly 40 percent margin. And Alabama recently dealt Trump a double whammy in the special election to fill the seat left vacant by his Attorney General Jeff Sessions. Republicans in the state first rejected Trump-endorsed Luther Strange in the GOP primary and then dealt a loss to Roy Moore in last month's special election.
People in Atlanta, which voted overwhelmingly for Clinton in 2016, might also remember Trump crapping on the city last year. His swipes came while attacking Representative John Lewis, the civil-rights hero whose district includes Atlanta, which Trump said is in "horrible shape," "falling apart," and "crime infested."