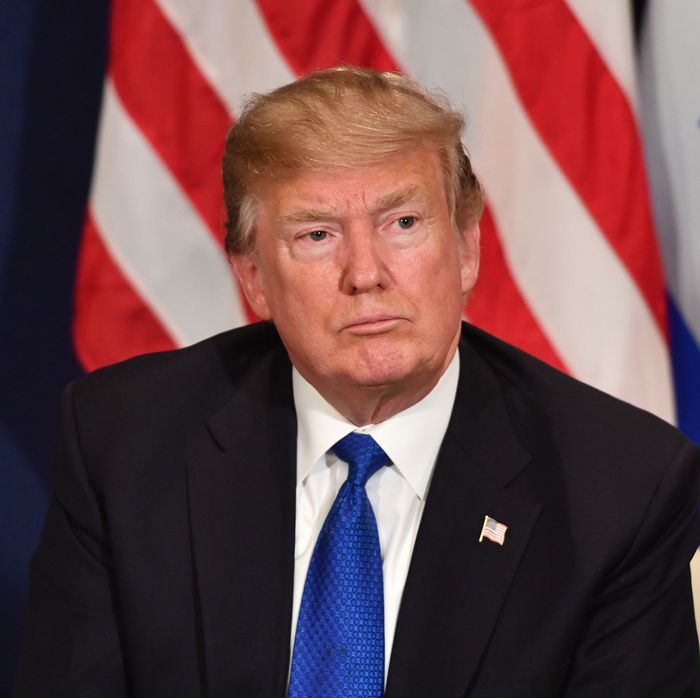 Trump meets with Netanyahu on the sidelines of the World Economic Forum annual meeting in Davos.
Photo: NICHOLAS KAMM/AFP/Getty Images
President Donald Trump on Thursday issued an ultimatum to the Palestinian Authority: Return to the negotiating table with Israel, or say good-bye to tens of millions of dollars in American aid to Palestinian refugees.
Speaking at the World Economic Forum in Davos, Switzerland, following a meeting with Israeli prime minister Benjamin Netanyahu (lest anyone remain unsure whose side he's on), Trump lashed out at the Palestinian leadership for having "disrespected" the U.S. by snubbing Vice-President Mike Pence on his dubiously meaningful trip to the Holy Land last week and said, "That money is on the table and that money is not going to them unless they sit down and negotiate peace."
"Because I can tell you that Israel does want to make peace and they're going to have to want to make peace too or we're going to have nothing to do with them any longer," he added.
Trump said his administration would soon release its plan for a peace deal, which he described as a "great proposal for Palestinians" that "covers a lot of the things we discussed over the years," without giving any further details. Somewhat confusingly, he said his decision to move the U.S. embassy in Israel to Jerusalem and formally recognize it as Israel's capital "took [Jerusalem] off the table. We don't have to talk about it anymore."
That statement directly contradicted Trump's previous claims that moving the embassy would not prejudice any final status negotiations over the holy city, which Netanyahu has called the "eternal, undivided" capital of Israel even as the Palestinians insist on establishing a capital of their own in the eastern part of the city. If Trump thinks the conflict can be resolved without talking about Jerusalem anymore, he's in for a very rude awakening.
We'll have to wait for this promised proposal to come out before we know just how Trump plans to make "the ultimate deal," but considering that the Middle East portfolio is being managed by his son-in-law, a personal friend of the Netanyahu family who spent nine years at the helm of a foundation that funded the construction of illegal Israeli settlements in the West Bank, don't be surprised if it looks an awful lot like something Netanyahu wrote up himself.
Unfortunately, the best offer Netanyahu wants to make the Palestinians entails no land swaps, no right of return for refugees, no real sovereignty, no capital in Jerusalem, and nothing more than a few disjointed cantons in the parts of the West Bank Israel doesn't want for itself, all under perpetual Israeli military control — something he's flatly described as a "state-minus." Pretty much every element of this vision, which demands peace without offering any semblance of justice in return, is a nonstarter for Palestinian president Mahmoud Abbas.
A cynic might say this is by design: a proposal meant to be rejected. Given the mixture of disdain and paranoia with which Netanyahu regards Palestinian national aspirations, a cynic might be right.
In any case, if Trump's idea of a peace plan resembles Netanyahu's, it's going nowhere fast. Then again, it might be even loonier: One member of Netanyahu's cabinet said last year that Trump was interested in a proposal to give the Palestinians a state in Egypt's Sinai Peninsula, rather than in historic Palestine itself. Netanyahu allegedly floated this idea to the Obama administration in 2014, though his office denies this.
Since peace talks broke down nearly four years ago, Netanyahu has repeatedly said he is ready to resume negotiations "without preconditions" — by which he means without holding Israel to any of the paper it has already signed over the past 25 years. When it comes to actually accepting a deal, however, Netanyahu has plenty of preconditions of his own, as Israeli journalist Shlomi Eldar explained in Al-Monitor in October:
These conditions include demands that Hamas recognize Israel and desist from terrorism, per the Quartet principles; lay down its arms, sever ties with Iran and hand back the bodies of Israeli soldiers killed in Gaza as well as Israeli civilians held there. … They also included a demand that Abbas' government obtain full security control of the Gaza Strip (still under Hamas rule), including its borders, prevent smuggling into the Palestinian enclave and continue foiling Hamas' terror activity in the West Bank.
How exactly the Palestinian Authority is supposed to regain security control of Gaza and drive Hamas entirely out of the Palestinian political arena is not clear. Eldar strongly suspects that the impossibility of these tasks is a feature, not a bug, calling them "preventive measures to scuttle any U.S. initiative" toward peace.
Given that Netanyahu has no interest in offering the Palestinians any deal they could possibly conceive of accepting, and that the Trump administration has so far been extremely solicitous of Israel, it's hard not to see Trump's ultimatum as a sign that "peace negotiations" aren't part of the strategy at all.
The threat to withhold aid to UNRWA, the special U.N. agency for Palestinian refugees in the Middle East (which Netanyahu and the Israeli right have long dreamed of dismantling), will put Abbas in a tight spot: If he agrees to restart negotiations, he knows he probably won't be able to say "yes" to Trump's plan without betraying his constituents, but will also be under extreme pressure not to turn it down and will have no leverage to amend it. Far from persuading the Palestinians to negotiate in good faith, Trump looks more like he's coercing them into capitulating to Israel's demands. If Abbas avoids the trap, Trump will cut off aid and Netanyahu will trot out his well-worn lamentation that there's no partner for peace in Ramallah.
Netanyahu, in his own remarks after the Davos meeting, said the U.S. was the only international party that could serve as an honest broker for a Mideast peace deal. In reality, he prefers the Trump administration as a broker precisely because it is so deeply dishonest, entirely partial to one side of the conflict, and willing to foist his unjust "solution" on the Palestinians as a fait accompli.
That's not to say Abbas and the rest of the Palestinian gerontocracy are any more capable of making peace than Israel's right-wing government. Abbas continues to insist on a two-state solution based on the process begun at Oslo a quarter-century ago, but Netanyahu and his predecessors have spent years disregarding and destroying that process, creating facts on the ground in the West Bank that make a genuine Palestinian state impracticable.
At this point, the best thing that might come from Trump's peace initiative is an undeniable revelation that the peace process is really and truly dead, giving the Palestinians the impetus they need to disband their useless Potemkin government, abandon the two-state solution, and instead demand full integration of the West Bank and Gaza and full rights as citizens of Israel. Perhaps then Netanyahu will realize the price of his intransigence.