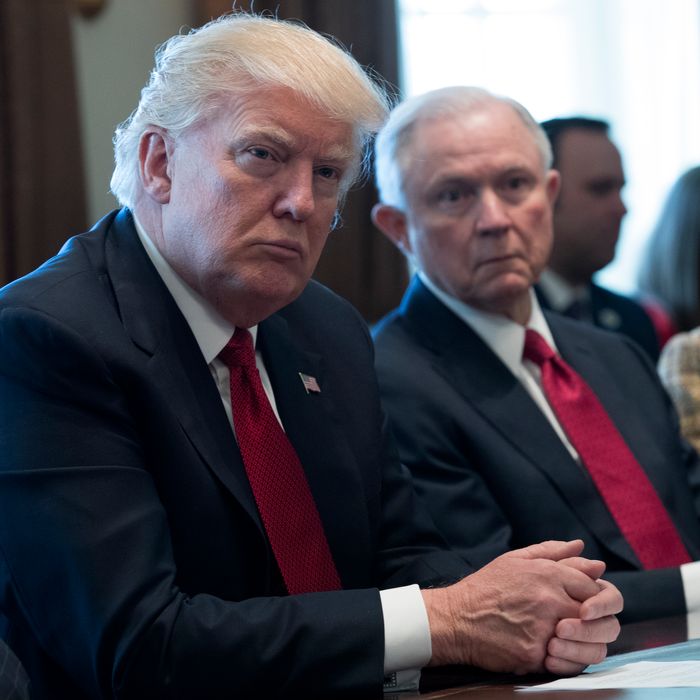 Why can't you be more like Roy Cohn?
Photo: Pool/Getty Images
Representatives Jim Jordan and Mark Meadows of the Freedom Caucus issued a confusing charge to Attorney General Jeff Sessions on Thursday. As Vox notes, their Washington Examiner op-ed calls on Sessions to regain control of the Department of Justice and put a stop to leaks about the Russia investigation, but also resign.
Regardless of what President Trump's congressional defenders think Sessions should do going forward, new reports on his role in FBI Director James Comey's firing underscore that efforts to maintain control of the Russia investigation have not gone very well for Trump.
According to a New York Times report, which was later backed up by the AP, Trump directed top White House counsel Don McGahn to keep Sessions from recusing himself from the Russia probe. Sessions faced calls to step aside after it was revealed in February that he met with Russia's ambassador to the United States while advising the Trump campaign. Unaware that Sessions had already made up his mind, McGahn reportedly advised him that he should hold off on removing himself from the Russia probe, and argued that recusing himself wouldn't stop Democratic attacks.
Per the Times, news of McGahn's failure to persuade Sessions infuriated Trump, and he demonstrated once again that he does not understand or respect the independence of the Justice Department:
Mr. McGahn was unsuccessful, and the president erupted in anger in front of numerous White House officials, saying he needed his attorney general to protect him. Mr. Trump said he had expected his top law enforcement official to safeguard him the way he believed Robert F. Kennedy, as attorney general, had done for his brother John F. Kennedy and Eric H. Holder Jr. had for Barack Obama.




Mr. Trump then asked, "Where's my Roy Cohn?" He was referring to his former personal lawyer and fixer, who had been Senator Joseph R. McCarthy's top aide during the investigations into communist activity in the 1950s and died in 1986.
Despite his recusal, months later Sessions reportedly participated in White House efforts to discredit Comey after he refused to publicly confirm that Trump wasn't under investigation.
Two days after Mr. Comey's testimony, an aide to Mr. Sessions approached a Capitol Hill staff member asking whether the staffer had any derogatory information about the F.B.I. director. The attorney general wanted one negative article a day in the news media about Mr. Comey, according to a person with knowledge of the meeting.




A Justice Department spokeswoman said the episode did not occur. "This did not happen and would not happen," said the spokeswoman, Sarah Isgur Flores. "Plain and simple."
Sessions's recusal ultimately made the Russia scandal far worse for Trump, as Deputy Attorney General Rod Rosenstein opted to appoint Special Counsel Robert Mueller in the days following Comey's firing. Now Mueller is reportedly looking into whether the circumstances of Sessions recusal are proof of any wrongdoing by Trump or his aides.
It remains unclear if Mueller can make a case that Trump's efforts on control the FBI's Russia probe were criminal, but there's plenty of information in the public record that might support an obstruction of justice charge. If true, Trump directing the White House counsel to pressure Sessions's decisions on the investigation, as well as efforts to undermine Comey, should definitely be on the list.
And those wouldn't be the only new entries from the Times story. Trump reportedly drafted a letter for Comey in which he dismissed the investigation as "fabricated and politically motivated," but he was talked out of sending it. Mueller is said to have handwritten notes from Reince Priebus in which the former White House chief of staff describes Trump relaying calls in which he urged Comey to say he wasn't under investigation. (It may not pertain to obstruction, but the piece also reveals that White House lawyer Uttam Dhillon opted not to tell Trump that he had the authority to fire Comey, because he was convinced he would dismiss the FBI director and spark a bigger scandal.)
In Trump's defense, it's hard to know what to do when you've put an adviser who misled Congress about meeting with Russians in charge of the department investigating your team for collusion with the Russians. And the addition of Mueller makes the situation even knottier; now Democrats have renewed their calls for Sessions to resign, though it's unclear what a new attorney general might mean for the Russia probe.