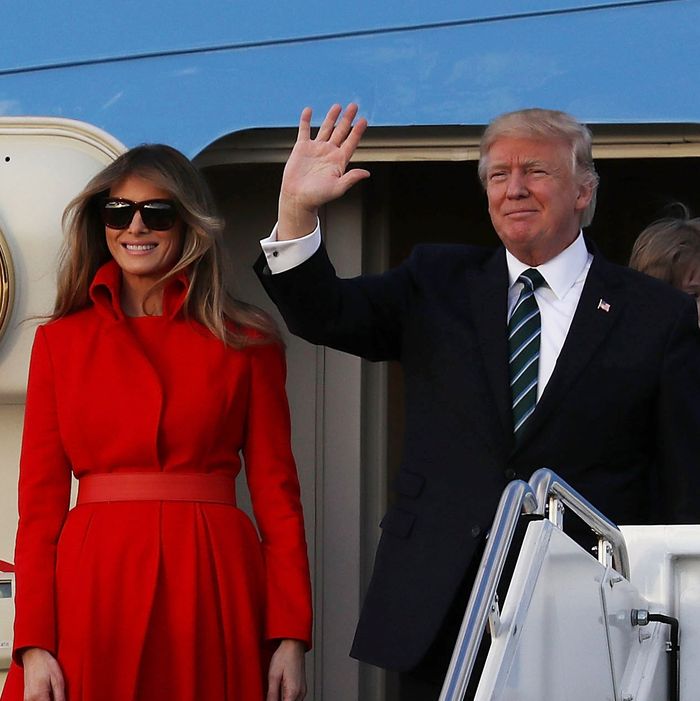 Let me know how it all works out.
Photo: Joe Raedle/Getty Images
Back in May, President Trump called for a "good shutdown" to fix the "mess" in the federal government. Faced with an empty legal threat from Republican state lawmakers several months later, he announced he would end the Deferred Action for Childhood Arrivals program. When presented with the bipartisan DACA deal he'd asked for, Trump rejected it — and complained about people from "shithole" countries. Then as GOP congressional leaders tried to avoid a government shutdown by attaching funding for children's health insurance to a stopgap funding measure, Trump tweeted that the money "should be part of a long term solution, not a 30 Day, or short term, extension!"
All of this led some to conclude that President Trump was actually itching for a government shutdown. But on Thursday night, as Congress inched closer to the ledge, the White House proved that's just more fake news. If Trump is so eager to see what happens when the federal government runs out of money, then why is he skipping town just hours before the funding deadline?
According to the White House itinerary posted on Thursday night, President Trump and the first lady will depart the White House for Palm Beach, Florida, shortly after 4 p.m. on Friday.
Trump has visited Mar-a-Lago, his private club, 11 times since he was sworn in (costing taxpayers about $3 million each time). But this trip isn't just about escaping the stresses of traveling between the White House and various other Trump properties. The president is celebrating the one-year anniversary of his inauguration with a $100,000-per-couple gala at Mar-a-Lago, the proceeds of which will go to the Trump reelection campaign and the Republican National Committee.
This may seem like an extremely inopportune moment for the president to be mingling with wealthy donors 1,000 miles away from the White House, especially since he'd need to sign any last-minute deals that Congress comes up with. But according to CNN, the Trump administration has already come up with a potential solution: If an agreement is reached, the president will just send a tweet announcing that everything's cool now.
White House staffers are mulling the idea President Donald Trump could use Twitter Friday night to signal that the federal government will not close down, a senior administration official told CNN.




The idea is that if the Senate passes the continuing resolution to keep the government open Friday, the President could then tweet that he will sign the continuing resolution. That would be an indication the government is open, even if he signs the actual bill later on.
Still, some people in D.C. were being super uptight about the president's getaway. Here's Democratic Representative Steve Cohen:
Even before they learned about Trump's weekend plans, lawmakers were complaining that they needed more input from the president. "We don't have a reliable partner at the White House to negotiate with," Senator Lindsey Graham said on Thursday morning. "This has turned into an s-show for no good reason and the only way out of this thing is to grow up a little bit — and I think that's going to happen."
During his speech on the Senate floor that evening, Majority Leader Mitch McConnell noted that the president is "not irrelevant" under the U.S. system of government, and Republicans still need to know what he wants in a DACA bill. "On the Republican side we're interested in what his views are, and those have not been made fully apparent yet," he said.
Even if no deal is reached in the coming days, D.C. might experience some problems that could benefit from close presidential oversight, like about 800,000 federal workers being furloughed and most government agencies reduced to essential operations only.
Some of these issues would be unique to the Trump administration. The president's picks for the top two positions at the Office of Personnel Management, which oversees those federal workers, haven't been confirmed. And the Daily Beast reports that while Obama administration officials spent weeks planning for a potential shutdown, today many agencies don't have plans that lay out which staffers are nonessential and how reserve funds would be allocated. Of the 130 agencies that submit contingency plans to OMB, 66 haven't been updated since 2015.
"I just cannot imagine working at an agency without an updated contingency plan, without the days and weeks we spent working through the worst-case scenarios of funding and staffing," said Melanie Newman, who worked at the Department of Housing and Urban Development and OMB under Obama. "It can only result in chaos."
One might argue that if President Trump didn't do much to help Congress or address these management issues during his entire first year in office, there's no need to have him around during a shutdown. But as a wise man once told Fox & Friends:
Problems start from the top and they have to get solved from the top. And the president's the leader and he's got to get everybody in a room and he's got to lead. And he doesn't do that. He doesn't like doing that. That's not his strength. And that's why you have this horrible situation going on in Washington. It's a very, very bad thing, and it's very embarrassing worldwide.