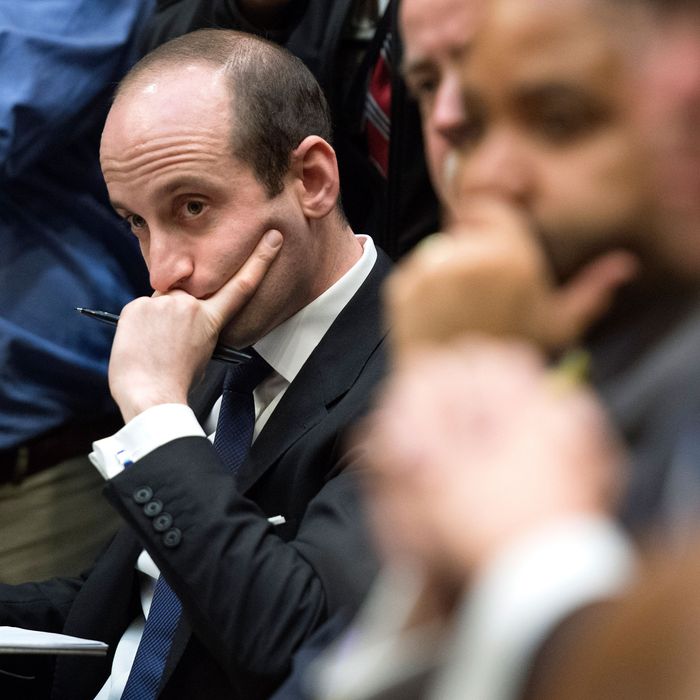 Presidential advisor Stephen Miller privately laid out the new proposal, which he almost certainly wrote along with John Kelly.
Photo: Kevin Dietsch - Pool/Getty Images
In the rapidly moving, sometimes topsy-turvy process of public negotiation over immigration policy, the Trump administration has offered the latest gambit: a deal that would give DACA recipients and some of their Dreamer peers the right to stay in the country and even pursue citizenship — in exchange for pretty much everything conservative immigration restrictionists have even thought about asking for in recent months.
The proposal was supposed to be under wraps (and maybe under development) until Monday, but presidential advisor (and former Michele Bachmann and Jeff Sessions staffer) Stephen Miller conducted a conference call with Republican congressional folk that naturally leaked almost instantly.
According to Miller, the administration is asking for $25 billion in border-wall funding (not coincidentally, that's what Chuck Schumer was offering the president on January 19 in the negotiations aimed at heading off a government shutdown); an end to the diversity visa lottery that provided a way into the country for many people from developing (or to use the president's term, "shithole") countries; a restriction of family-based immigration (the program would be limited to spouses and minor children of people already in the country); and significantly enhanced enforcement resources for non-border activities. This last item, suggesting a plan to step up deportations, was a bit of a nasty surprise for pro-immigration advocates.
There are a few other unusual items in Miller's wish list, such as "technology and security at the Canadian border," sure to trigger mordant jokes about White Walkers.
If the "ask" in this proposal is extremely steep, the prize for Democrats is big enough to upset those who can't countenance "amnesty" of any kind at any price.
On the details of the plan, the Times reports:
[Y]oung immigrants who were brought into the United States as children, would be granted legal status, allowed to work legally, and could become citizens over a 10-to-12 year period if they remain out of trouble with the law.




Officials said that would include about 690,000 people who signed up for protection under an Obama-era program, known as Deferred Action for Childhood Arrivals, or DACA, but also for another 1.1 million undocumented immigrants who would have qualified for the program but never applied. 
Indeed, when Trump himself dropped a big hint yesterday that he was "open" to ultimate citizenship for Dreamers, Breitbart News put up a headline labeling their hero "Amnesty Don" for the apostasy, and Ted Cruz blasted the president as well.
Meanwhile, the initial reaction from advocates of immigrants is about what you'd expect with a proposal that offers them a choice between protecting Dreamers and protecting every other undocumented immigrant — and millions of future immigrants as well:
"We will oppose it. Most if not all Democrats will oppose it. Some Republicans will, too," said Frank Sharry, the executive director of America's Voice, a pro-immigration group. "We are not going to allow Stephen Miller to exploit a crisis that he and his boss created to take a wrecking ball to the Statue of Liberty and enact his nativist wish list."
Indeed, suspicions arose immediately that Miller and his immediate boss John Kelly were simply trying to sabotage any agreement with a proposal sure to attract opponents from both left and right.
And as always, of course, no one can be entirely sure the deal Miller outlined will be on the table for more than a few hours, given the nature of his boss:
"I welcome when he says the right thing. But I know the next day he might be 180 degrees different," said Sen. Sherrod Brown (D-Ohio) in an interview. "We've got to get him to sign something right after he says the right thing."
This proposal's probably not the going to be the basis for a deal, but it certainly represents the kind of right-leaning offer that may be the best Miller and Kelly are willing to make without coercion.