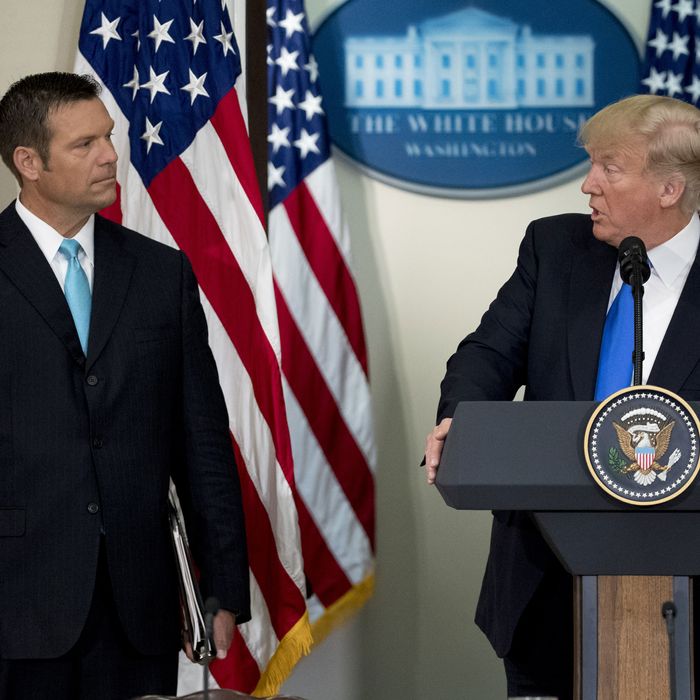 Two "voter fraud" obsessives.
Photo: Andrew Harrer/Bloomberg via Getty Images
In an alarming but hardly surprising revelation, the Washington Post reported on Monday that President Trump's now-defunct voter commission attempted to gather data on Texas voters with Hispanic last names.
In buying nearly 50 million records from the state with the nation's second largest Hispanic population, a researcher for the Presidential Advisory Commission on Election Integrity checked a box on two Texas public voter data request forms explicitly asking for the "Hispanic surname flag notation," to be included in information sent to the voting commission, according to copies of the signed and notarized state forms.
A successful lawsuit filed by voting-rights advocates prevented the data from ever being transferred to the White House.
A Texas spokesman told the Post that the state gathers Hispanic names separately to fulfill state and federal laws that require the mailing of bilingual election notices. He said that about one quarter of Texas's voting population, or 3.6 million people, have Hispanic last names.
From the moment it was formed in reaction to President Trump's lie that he would have won the popular vote if not for illegal voters, the Presidential Advisory Commission on Election Integrity fostered widespread fear that it would disenfranchise poor and minority voters. But officials who served on the committee, which was chaired by Vice-President Mike Pence, denied to the Post that their motives in Texas were impure.
"At no time did the commission request any state to flag surnames by ethnicity or race. It's a complete surprise to me," said voting commission vice-chairman Kris Kobach, whose longtime quest to prove the existence of rampant voter fraud has been dogged by the fact that the phenomenon barely exists. "Mr. Williams did not ask any member of the commission whether he should check that box or not, so it certainly wasn't a committee decision."
Trump disbanded his commission in early January amid several lawsuits requesting information on the data it had gathered. The commission got off to a rocky start last summer, when it requested voter data from all 5o states, and was loudly rebuffed by many of them.
The Texas request was made public when Missouri senator Claire McCaskill asked to see communication between the U.S. General Services Administration and the voting commission.