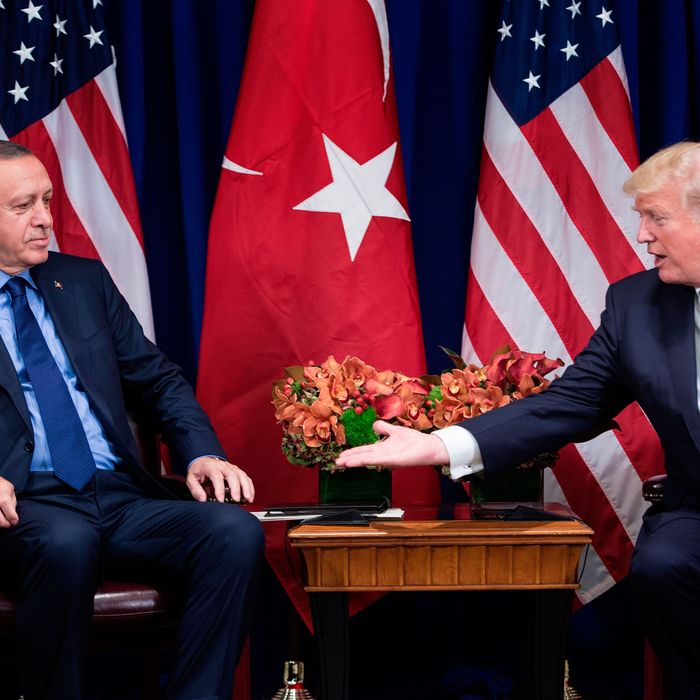 Erdogan wonders where that hand has been.
Photo: Brendan Smialowski/AFP/Getty Images
Donald Trump on Wednesday chewed out Turkish president Recep Tayyip Erdogan in a phone call, just days after Turkey bombed U.S.-backed Kurdish fighters in Syria.
At least, that's how the White House is portraying the conversation. According to a White House readout of the call, Trump "urged Turkey to de-escalate, limit its military actions, and avoid civilian casualties" in northern Syria, warning that Ankara's actions "risk conflict between Turkish and American forces." Trump also criticized "destructive and false rhetoric coming from Turkey" and the "prolonged State of Emergency in Turkey," which was imposed after a 2016 coup attempt and has been extended six times since.
Turkish officials say that's nonsense.
"Trump did not share any 'concerns [about] escalating violence,'" an anonymous official told Reuters. The discussion of Turkey's military operations in Syria "was limited to an exchange of views," the official said, using a common diplomatic phrase that roughly translates to "they couldn't agree on a damn thing."
Turkey's Anadolu news agency added that the White House readout "differ(ed) from the truth discussed" and Turkish foreign minister Mevlut Cavusoglu accused the White House of drafting the readout before the conversation even took place.
In addition to disputing the White House's version of the call, Turkey added details it said were left out. Most significantly, Erdogan apparently asked Trump to remove U.S. special forces from Manbij, a northern Syria town that it plans to attack.
"Those who support the terrorist organisation will become a target in this battle," Turkey's deputy prime minister Bekir Bozdag said Thursday. "The United States needs to review its soldiers and elements giving support to terrorists on the ground in a way to avoid a confrontation with Turkey."