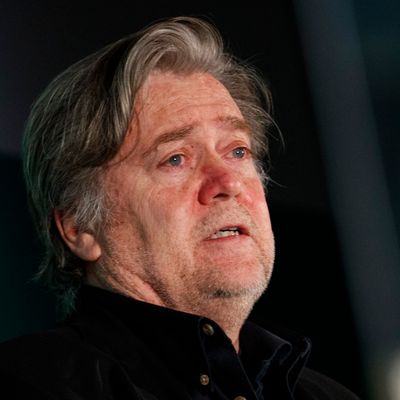 Will Bannon lay it all out?
Photo: Drew Angerer/Getty Images
Under a contingency plan contemplating a government shutdown, the work of Robert Mueller and his special-counsel office is exempted from furloughs, as it's funded through a "permanent indefinite appropriation." That means many in the Department of Justice won't report for work in the coming days and weeks — but Mueller and his team will. His sprawling and, thus far, productive investigation into Russia's meddling in the 2016 election will carry on, including his expected interview of Steve Bannon, who, earlier this week — at the direction of Donald Trump — stonewalled the House Intelligence Committee for information about his work during the campaign and at the White House.
That may sound like collusion to prevent testimony about suspected collusion with Russia, but it turns out that Trump, for once, relied on the legal advice of a deputy White House counsel in exerting executive privilege over Bannon's congressional testimony. The particulars of when and how the privilege applies to someone like Bannon are thorny but luckily are largely inapplicable to Mueller's investigation. Foreign Policy reported that Uttam Dhillon, the White House lawyer who did the analysis for Trump, so concluded when he greenlighted Bannon to appear before the special counsel and be forthcoming with him.
The disclosure of this legal analysis by the Trump administration is curious because Bannon, like White House counsel Don McGahn and former Chief of Staff Reince Priebus, is represented by William Burck, a white-collar defense lawyer at the white-shoe law-firm Quinn Emanuel. Prosecutors don't particularly love it when a lawyer represents multiple people in their crosshairs — in large part because the lawyer can get all his clients in a room and triangulate their stories so they match up. Bannon himself hasn't been a big fan of Trump's legal team, which has made its share of tragicomic errors and continues to feed the fantasy that Mueller will soon wrap up his investigation.
But the fact that he and Mueller will sit down for a chat is still remarkable, if only because of Bannon's proven ability — until now, anyway — to be a ghost in all things Russia. Pick just about any of the major milestones in Mueller's sprawling investigation into Russia's disruption of the 2016 presidential election, and the former White House strategist is simply nowhere to be found.
Bannon, for one, hadn't yet joined the campaign when George Papadopoulos tried to procure "dirt" on Hillary Clinton from Moscow and then let other campaign officials in on his quest. Neither was Bannon around when Paul Manafort, Jared Kushner, and Don Jr. met a cast of shady, Kremlin-linked figures who had also promised similar dirt. Bannon had nothing to do with Donald Trump's firing of James Comey, which Bannon has suggested, on national television to boot, was the biggest mistake in modern political history. And for all we know, he steered clear of any and all of Mike Flynn's questionable wheeling and dealing with the Russian ambassador — which Flynn lied to the FBI and the White House about and later got prosecuted for.
Mueller has already secured guilty pleas or indictments from four different targets and likely has amassed a mountain of evidence implicating others that we may never see — culled from dozens of interviews from White House and campaign officials, intelligence assessments, financial transactions, and thousands of emails and other records from all corners of Trumpworld. As I've written before, we know a lot of Mueller's work, but in the grand scheme of things, we know nothing at all.
So what might Mueller's investigators want to talk to Bannon about? The Washington Post's Greg Sargent has suggested a few direct questions — Did Trump order Flynn to lie to the FBI? What do you know about Comey's firing? — but those are softballs for skilled prosecutors. At this stage of the Russia probe, Mueller is thinking in terms of specific criminal elements that he can lay out in a report to Congress, if not prove in a court of law. He already has an idea about his case-in-chief — the assembly of facts and law that he hopes to one day present to a jury and the American public.
It's no secret, for example, that one of the more legally compromised members of Trump's inner circle is his son-in-law, Jared Kushner, and Mueller may either ask big, open-ended questions about anything Bannon knows about his archnemesis, or else put in front of him documents he may be familiar with. In Michael Wolff's controversial Fire and Fury, for instance, the author writes: "With the president's assent, Kushner … gave [Stephen] Miller notes on why the FBI director should be fired and asked him to draft a letter that could set out the basis for immediate dismissal." Is Bannon familiar with these notes and why Trump may have directed Kushner to draft them in the first place?
Whatever Mueller's line of questioning, it will be in the former Breitbart impresario's best interest to tell the special counsel everything he knows about every meeting or decision when he was in the room. Keep in mind that the main reason Bannon attached himself to Trump was to advance his nationalist vision for America. Now that that project has failed and he's been thrown under the bus by just about everyone he helped rise to power, he's lost it all and has little else to lose by giving Mueller the keys to the kingdom.