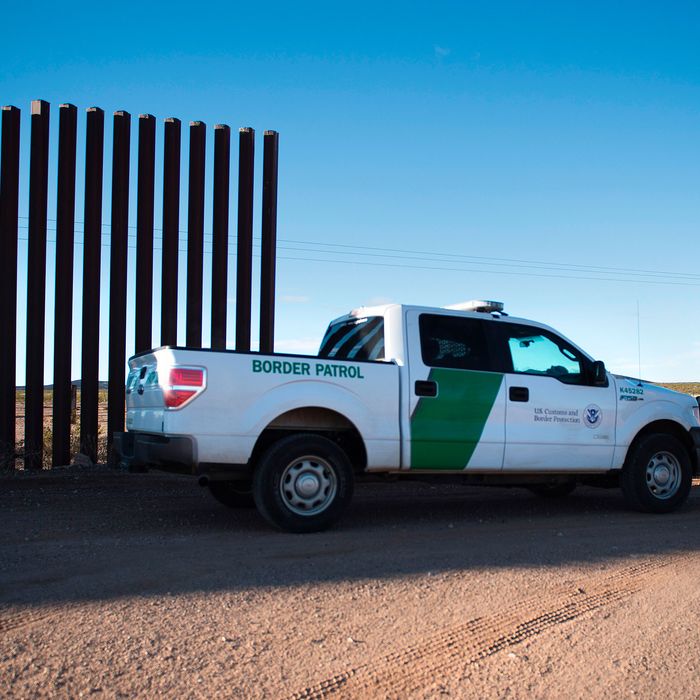 Is a "border wall" a wall, or a fence, or just some sort of barrier? No one seems to know for sure.
Photo: Jim Watson/AFP/Getty Images
On the day he announced his presidential candidacy in June 2015, Donald Trump first mentioned his pledge to "build a great, great wall on our southern border." He also said "I will make Mexico pay for that wall," which became a separate pledge that faded over time.
Demanding a wall, though, became central to Trump's campaign; announcing this promise to rapturous cheers became a staple of every event. Yes, there were questions all along about exactly how literally Trump defined "wall," and whether substitutes for rigid barriers were permissable. But he somehow got to the White House without definitively answering those questions.
Now, more than a year after the campaign ended, Congress and the White House are engaged in tense negotiations over a spending deal necessary to avoid a government shutdown later this month. Thanks to Trump's decision in September to suspend DACA protections for Dreamers with a six-month delay to allow for negotiations over immigration policy, Democrats have linked DACA restoration to the spending bill. Everyone understands two things about a DACA deal: Republicans will be able to secure some "border control" concessions in exchange for protections for Dreamers, but Democrats won't accept anything like the Great-Wall-of-China replica Trump often seemed to have in mind on the campaign trail.
As recently as last week, Trump told the New York Times that "I wouldn't do a DACA plan without a wall." But congressional negotiators are still in the dark as to how the great-wall builder defines "wall," as the Hill reports:
"That's something we're waiting on the White House to give us clarity on," said Sen. James Lankford (R-Okla.), one of the negotiators. "When you talk to [the Department of Homeland Security] and the other individuals, they talk about technology, they talk about personnel, they talk about physical barriers."




"The president has just said, 'I call it wall.' Everything is 'wall.' But I don't think he really means 30-foot high wall for 2,000 miles," Lankford added.
So Republicans are going to the White House to inquire about that, in hopes that Trump will give them a coherent answer. But Democrats are skeptical:
"It has been almost three months since we asked the administration to provide us with a specific border security proposal. Still, I haven't seen it," [Sen. Dick] Durbin said.




"What do you think 'the wall' means? Nobody knows. When they're forced to put it on paper they have a problem. It's too expensive and it's controversial and there are parts of it that Republicans don't like so they're afraid to write it down. But they're holding us up."
What most negotiators hope is that they can come up with border security measures that Trump can call a wall even as Democrats deny it's a wall at all. But then there would be some risk that the nativist wing of the GOP might cry foul. Iowa congressman Steve King recently complained that what Trump had described as "the Rolls-Royce of a big, beautiful wall" could wind up being "an overhauled jalopy." So Trump has some reason to fear a "the emperor has no wall" moment. And presidential advisers like Stephen Miller may urge him to stand firm on a physical wall because they don't favor a DACA deal in any event, and would even invite a government shutdown triggered by partisan differences over immigration policy.
This is all the more reason that congressional Republicans would prefer to keep immigration negotiations separate from the spending talks aimed at keeping the lights on for the federal government.
[Sen. John] Thune said a prospective deal on Dreamers and border security probably won't be done in time to add to the spending bill.




"I don't think they're anywhere close. That's not ripe yet," he said of a possible immigration deal.




But Democrats are pushing back hard on the notion that the omnibus spending package will move without a deal on immigration.
So the question just can't be avoided: What's a wall, and when is a wall not a wall?