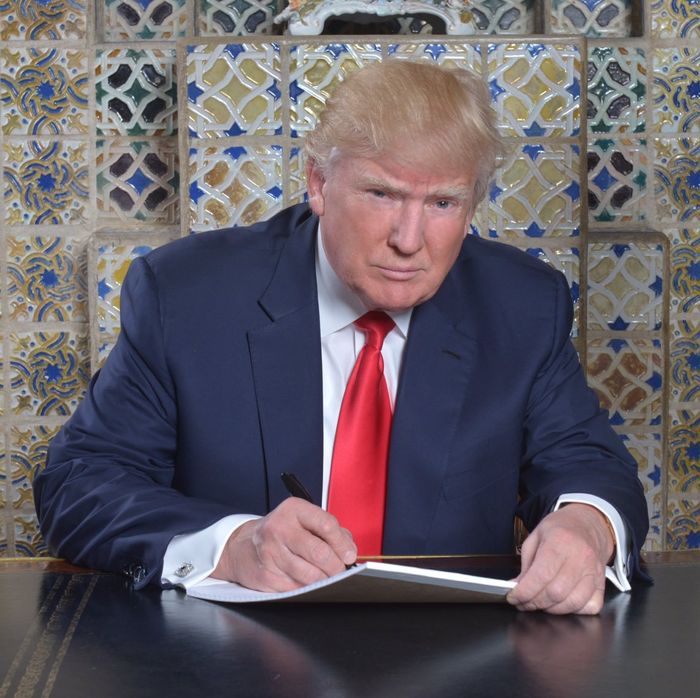 Trump "writing" a speech at Mar-a-Lago.
At the White House on Friday, with President Donald Trump traveling back from Davos, administration officials met with reporters to preview the State of the Union address. Set for Tuesday night, early talking points suggest the speech — the theme of which is "building a safe, strong, and proud America" — will act to deny and obscure its backdrop of pronounced government dysfunction and a never-ending news cycle that is at turns zany and grim.
And who, exactly, is crafting those denials and obfuscations, as they appear on the page? The small number of formal speeches delivered by Donald Trump as president have at times borne little resemblance in pattern or content to anything he has ever said before, or would say, or would ever even think. Yet in keeping with the running theme of this White House, definite answers to simple questions — Who is writing which speeches, and what is the president's involvement? — are hard to get.
The briefing was on background, meaning reporters attended on the condition that the information about the State of the Union address be attributed to an unnamed "senior administration official." While introducing said official, another Trump aide issued a warning: "Do not expect a lot of color on process or specific policy items in this briefing." The terms color and process are often used dismissively by political types to suggest frivolity. In reality, they describe valuable details about how things happen and why they're happening that way. Asked by New York to explain why the White House refused to get into the illuminating particulars, the senior administration official was incoherent.
"Umm, because that's an internal deliberations that weigh on — you know, we don't want to go into talking about the process … um … because it's a never-ending … uh … set of questions," the senior administration official said.
Various reports have identified Stephen Miller, the senior policy adviser to the president, as the likely architect of the address. A former communications director for Jeff Sessions, Miller has the uncommon distinction of having emerged from the Trump campaign and the first year of the new presidency with his job intact. And though he's best known for his anti-immigration politics and antisocial interactions with the press, he's also known for his alleged ability to write a speech. "Stephen Miller has acquired the knack of writing in his voice," one source close to the president said, "to write in a way that sounds like him stylistically." The Washington Post reported that during the campaign, it was typical to see Trump and Miller collaborating while traveling between rallies; Miller would bring his portable printer and Trump would sit, "slashing notes into the margins of another speech." But, the source close to the president added, "I'm sure he's not anxious to take credit for anything."
According to personnel records and other sources, several White House staffers are designated speechwriters, or speechwriters along with another title, like special assistant or adviser to the president. With the exception of Michael Anton, who composed speeches for Rudy Giuliani and George W. Bush before he joined the Trump administration as the spokesman for the National Security Council, they're invisible by the standards of Trump staff. And without hearing from them, it's difficult to assess their influence on the words of the president and by extension the world. Based on their résumés, it seems possible that all they've done is make Trump sound more like a conventional Republican. There's Vince Haley, who managed Newt Gingrich's 2012 campaign and served as an executive at Gingrich's media production company; Ross Worthington, another former executive at Gingrich Productions and the co-author of Gingrich's book Breakout: Pioneers of the Future, Prison Guards of the Past, and the Epic Battle That Will Decide America's Fate; Ryan Jarmula, a longtime aide and speechwriter to Mike Pence; Brittany Baldwin, a former speechwriter for Ted Cruz; David Sorensen, a former aide to Maine's Republican governor Paul LePage; and Theodore Royer, a former speechwriter and spokesman for Rick Perry, who claims in his biography that he once "co-wrote and produced Pioneers, a branded series of shorts for the Oprah Winfrey Network."
In most modern White Houses, the president's speechwriters have had public faces even as they shed some natural egotistical impulses to do the job. As with any characters influencing a president, they became, to varying degrees, media curiosities, and increasingly, they leveraged the attention to serve their own interests, going on to become TV pundits, authors, and so on. John F. Kennedy relied on Ted Sorensen; Ronald Reagan and George H.W. Bush on Peggy Noonan and Ken Khachigian; for Bill Clinton, it was Michael Waldman; for George W. Bush, Michael Gerson; and for Barack Obama, a veritable *NSYNC of political scribes: Jon Favreau, Jon Lovett, Cody Keenan, and Ben Rhodes.
But the current White House has so far diverged from this convention, as it has from so many others. "If anybody's paying attention to who the White House speechwriters are, it's former White House speechwriters. And I don't know anybody who has any idea outside of our awareness of Stephen Miller," said Jeff Shesol, a partner at West Wing Writers who worked for Bill Clinton. "I've had many conversations with people who would know under any other administration, saying, 'Does Trump even have speechwriters? Who are his speechwriters?'"
Officials declined to engage on the subject in a way that seems almost suspicious, like the speechwriters might all be lizard people or something. "Unfortunately we will not be able to facilitate an interview with the speechwriting team," Lindsay Walters, a deputy press secretary, told me in an email. "On record," she added, "when President Trump communicates with the American people, his words are his own and come directly from his heart. His unparalleled ability to speak to and connect with people from across the country, including those who have felt forgotten by Washington for many years, will never waver."
Much less exciting than the lizard theory, but also more horrifying, is the explanation offered by multiple sources close to the president: "Trump hates the idea that anybody puts words in his mouth. He hates the idea that everything isn't written by him," one said. "That's something he jealously guards."
Two days before his inauguration, Trump tweeted a picture of himself at a strange-looking desk, holding a pen and a pad of paper. "Writing my inaugural address at the Winter White House, Mar-a-Lago, three weeks ago," he said. As it turned out, the desk was the Mar-a-Lago concierge desk, and the desktop computer and brochures that usually sit on top of it had been cleared off and replaced with an eagle statue for the photo. The pen in his hand was a marker, his preferred writing instrument but less than an ideal one with which to write a long, inherently historic speech. From there, the confusion continued, with conflicting reports claiming the speech was penned by Miller, or Steve Bannon, or Trump himself, or some combination thereof.
A source who has written speeches with Trump said that channeling his voice wasn't as difficult as the psychological maneuvering the job required. "One: Let him come to you. Two: Make sure he thinks you're never trying to handle him or control him," the source said, explaining how best to approach his fragile state. "I knew, naturally, he would eventually say, 'Do you have any suggestions?'"
Obviously, Trump isn't the first president to dislike the idea of others accepting credit for the words he says. Early in George W. Bush's presidency, rumors circulated that he'd fired a speechwriter, David Frum, because he was unhappy that Frum's wife had gleefully informed friends that her husband came up with the newly famous phrase "axis of evil." (Both Frum and the White House publicly denied the rumor, saying Frum had resigned.) But Trump is perhaps the first president to dislike the idea of others accepting credit for the words coming out of his mouth even when the words couldn't have possibly arrived there without assistance.
When a mass shooting killed 58 people in Las Vegas, he delivered biblically tinged remarks in a somber tone. "Scripture teaches us the Lord is close to the brokenhearted and saves those who are crushed in spirit," he said. "We seek comfort in those words, for we know that God lives in the hearts of those who grieve." There were other references to "bonds that unite us" and "the bonds of citizenship" and "the comfort of our common humanity," and most unfamiliar of all, "searching for some kind of meaning in the chaos, some kind of light in the darkness. The answers do not come easy." Had they been Mandarin, the words couldn't have sounded any less like ones Trump might have chosen, but the press secretary, Sarah Huckabee Sanders, didn't budge. "The president's remarks are his own," she told New York.
"I definitely wrote stuff that didn't sound like Obama from time to time," Jon Favreau, one of Obama's speechwriters, told me. "But he would always edit the speech before it appeared on the prompter so that he didn't sound like he was reading a hostage statement."