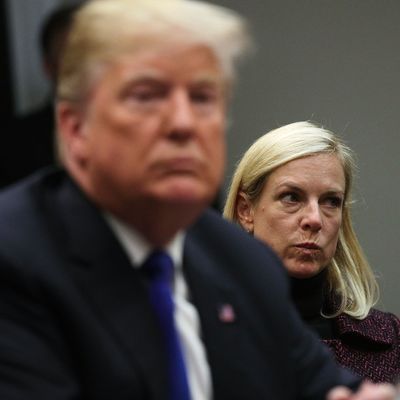 Homeland Security Secretary Kirstjen Nielsen.
Photo: Alex Wong/Getty Images
There are a lot more undocumented immigrants in the United States than our government can possibly deport (without increasing the size and scope of immigration enforcement beyond even the Trump administration's wildest dreams). At present, U.S. immigration courts are so severely backlogged, deportations actually went down during Trump's first year in office, even as the number of immigration arrests dramatically increased.
This context requires the White House to set priorities for enforcing immigration law. Until Congress increases the relevant resources, the Executive branch cannot significantly increase deportations with its policy changes — it can only change the composition of the deportee population. The Obama administration decided that it made little sense to use the government's limited resources on expelling Dreamers (law-abiding, gainfully-employed undocumented immigrants who were brought to the U.S. as children). And on Tuesday, Trump's Department of Homeland Security reached the same conclusion.
"It's not going to be a priority of the Immigration and Customs Enforcement to prioritize their removal. I've said that before. That's not the policy of DHS," DHS head Kirstjen Nielsen told CBS This Morning. "If you are a DACA that's compliant with your registration, meaning you haven't committed a crime, you, in fact, are registered, you're not priority of enforcement for ICE should the program end."
This statement is not surprising. It would be bizarre if Homeland Security did prioritize deporting a category of immigrants that is, by definition, compliant with all (non-immigration) laws, and making productive contributions to society. And the significance of Nielson's remarks are unclear. There is a big difference between deprioritizing Dreamers, and instructing immigration enforcement agents to leave them alone. Many Dreamers shared their personal information and immigration status with the government when applying for protection from deportation under the Obama administration. If ICE isn't explicitly prohibited from using that data to make quick-and-easy arrests of undocumented individuals, some agents could take that initiative.
Regardless, Nielsen's statement betrays the fundamental incoherence of the Trump administration's policy on Dreamers. Like its predecessor, the Trump White House (officially) believes that Dreamers should not be prioritized for deportation; unlike the Obama administration, it does not believe that the Executive branch should make it easier for Dreamers to contribute to the legitimate economy while they're here.
Trump has never actually made a policy argument for this position. When the administration ended Obama's Deferred Action for Childhood Arrivals (DACA) program — which had provided Dreamers with formal protection from deportation and renewable work permits — it claimed to do so on legal grounds: Whatever the merits of the policy, it was simply unconstitutional for the Executive branch to implement such a program without congressional approval.
The problem with that argument, as a federal judge recently noticed, is that "deferred action has been blessed by both the the Supreme Court and Congress as a means to exercise enforcement discretion" and embraced by presidents of both parties for decades. Further, the specific features of DACA, such as work permits, are explicitly allowed under current law. (Notably, in other contexts, the Trump administration has shown little reluctance to assert the Executive branch's immense discretion over immigration policy.)
The Trump administration says it does not want to deport Dreamers. A large body of law — and now, a federal court ruling — says that it has the power to unilaterally give Dreamers formal protection from deportation. And yet, Trump refuses to exercise that authority. Thus, his ostensible position is that Dreamers should be allowed to stay in the U.S. — but should be kept in a perpetual state of anxiety, and prevented from securing legal employment — until Congress agrees to pass a long-list of controversial reforms to the immigration system.
In this light, Trump's DACA policy is not (as Jeff Sessions once suggested) an act of deference to the limits of executive authority. Rather, it is a gross abuse of that discretion: The administration revoked the legal status of 700,000 people, not because it thinks this is defensible as a policy, but solely as a means of coercing Congress into passing legislation that it otherwise would not.