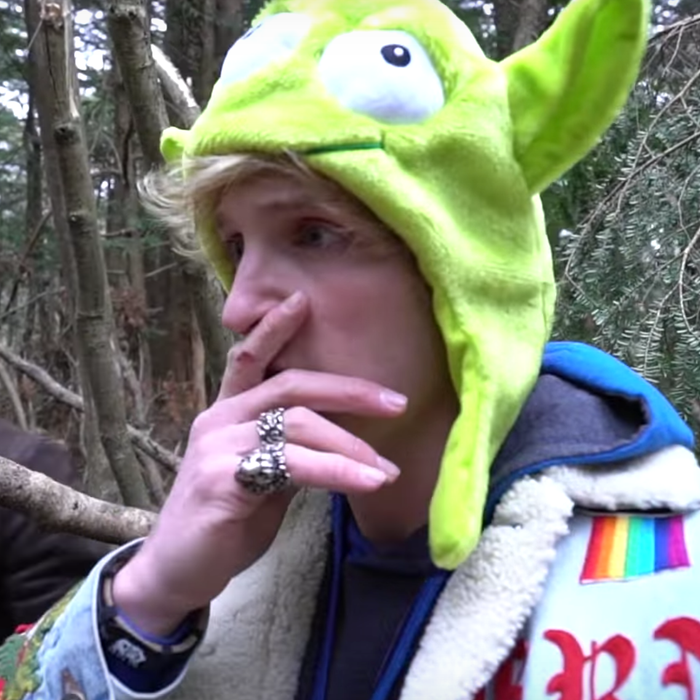 A still from Logan Paul's now-deleted vlog from Japan's "suicide forest."
Photo: Logan Paul Vlogs/YouTube
Logan Paul has been MIA since he and his pals decided it would be a good idea to share a video last week of an apparent suicide victim found hanging from a tree in a forest in Japan. Backlash against Paul was, unsurprisingly, swift and the YouTuber quickly — not so quickly that the video couldn't be viewed by millions around the world beforehand — deleted the video, posted an apology, and stepped away from the internet to "reflect." During the incident's peak last week, YouTube had relatively little to say about Paul, the video, and any potential violations of the company's Terms of Service. It offered only a short statement offering condolences to the family of the deceased and saying the platform "prohibits violent or gory content posted in a shocking, sensational, or disrespectful manner." It did not say if Paul's video was being deemed as such. Today, the company posted an open letter — in the form of a tweetstorm — offering a bit, and only just a bit, more information regarding the situation.
While it's certainly better than YouTube's original statement on the Logan Paul Aokigahara incident, YouTube still isn't really saying much of anything here. The word "sorry" does not appear in the open letter. YouTube is not apologizing for letting Paul's content — effectively a snuff film — circulate on the platform for as long as it did. Nor is it apologizing for promoting the video under the platform's trending tab as it became more and more "popular" before Paul eventually deleted it.
This raises further questions: Because Paul deleted the video, we presume, of his own accord, YouTube saying it "acted accordingly" doesn't really hold much weight here. It'll all come down to what the company decides about those "further consequences." Being that Paul is one of YouTube's biggest names — and likely, prior to last week, one of its biggest revenue generators — he won't be kicked off the platform for good. (Despite many, many cries from the #LoganPaulIsCancelled types on Twitter.) Unfortunately, YouTube seems to be taking a page out of Twitter's book with this open letter … that is saying you're going to be making some changes in the coming weeks and months but not providing any sort of detail about what those aforementioned changes are.