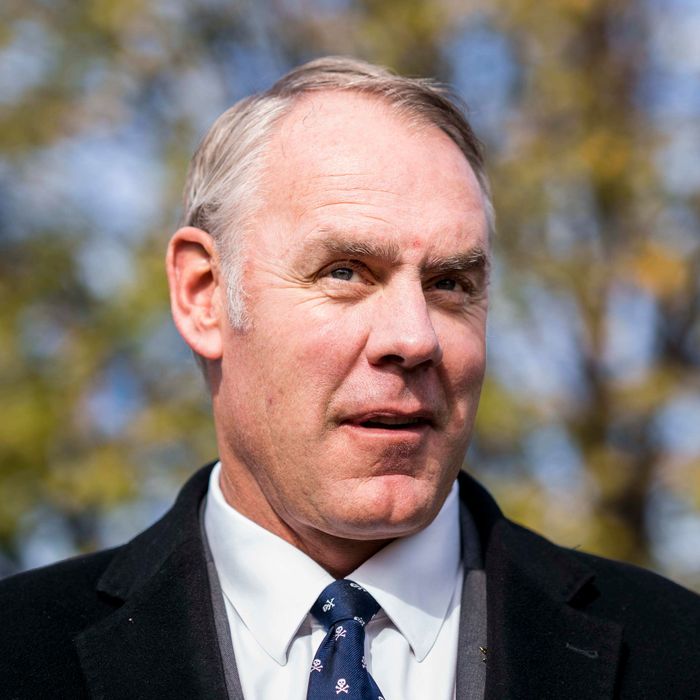 Sorry, Zinke just doesn't like the cut of your jib.
Photo: Melina Mara/The Washington Post/Getty Images
Faced with outrage following last week's announcement that the Trump administration will allow oil-and-gas drilling in most federal waters, Interior Secretary Ryan Zinke denied on Wednesday that Florida received an exception because President Trump happens to have home on the state's coastline. Rather, he just like the state's Republican governor, Rick Scott. The Washington Post reports:
In a Wednesday interview with The Washington Post, Zinke said he first met Scott when his state and the federal government were preparing for Hurricane Irma, then a second time when the two worked on Everglades restoration. Zinke said he felt a personal connection with the governor, so when Scott contacted him in writing he felt an obligation to respond.




"Quite frankly, Gov. Scott called me and [also] expressed in writing a desire to have a meeting," he said. That meeting was the first "in what I believe will be a series of conversations" with other governors, the secretary said.
This did little to calm the storm, as Zinke's initial statement suggested Florida was getting special treatment because Scott is "straightforward leader that can be trusted." Florida was not among the states that requested exclusion from the drilling plan last year, including California, Oregon, North Carolina, Virginia, Maryland, New Jersey, and Washington. Apparently, Zinke was unmoved by these pleas; lawmakers from the states said they didn't hear back.
So Democratic lawmakers from coastal states tried again, publicly demanding an exemption. Some cited Zinke's claim that "Florida is unique and its coasts are heavily reliant on tourism as an economic driver." Xavier Becerra, California's attorney general said:
Governor Andrew Cuomo wrote: "New York doesn't want drilling off our coast either. Where do we sign up for a waiver @SecretaryZinke?"
Even Republican lawmakers joined in, with Representative Mark Sanford, the former South Carolina governor, suggesting the Florida exemption might be about Trump's "Winter White House." "I would also say this, it smacks of what we never want to see in politics which is: Is it self-serving?" Sanford told CNN. "I mean you can't say, 'I don't want to see an oil rig from Mar-a-Lago' as you look out from the waters of Palm Beach, but it's okay to look at an oil rig out from Hilton Head or Charleston, South Carolina."
Governor Chris Christie's office released a statement on Wednesday saying he has been opposed to drilling off New Jersey's coast for years, and "If exceptions are being made for other states, the governor will certainly pursue the same type of exception for New Jersey. He also will consult with the attorney general on additional steps to continue his policy of protecting New Jersey's coastline."
Et tu, Christie?
Legal experts said that Zinke's move might have put the entire effort at risk. The 1953 Outer Continental Shelf Lands Act, which sets procedures for deciding which areas will be opened to offshore drilling, has not be tested like this before. "It's not clear what they did here, and it's not clear that they understand that there is a legal process that they need to follow," Sierra Weaver, an attorney with the Southern Environmental Law Center, told the New York Times.
For now, Zinke assured the governors that the decision isn't final, and and he's willing to address their concerns regardless of their political affiliation.
"I will no doubt talk to every governor," Zinke said. "It doesn't matter to me whether you're Republican or Democrat. This is going to be a long process. This is going to be at least a year with public comment. We have to get it right, look at the geology, look at the science."