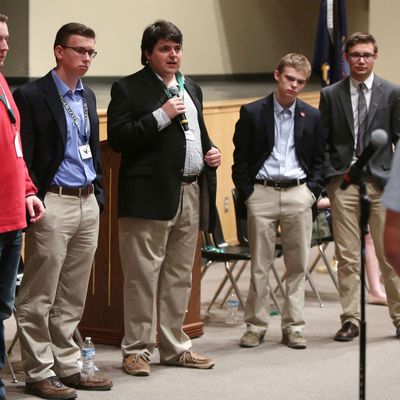 "Your old road is rapidly aging. Please get out of the new one, if you can't lend your hand."
Photo: Christopher Smith/AFP/Getty Images
Sam Brownback hurt a lot of Kansans during his disastrous tenure as governor of the Sunflower State. But few paid a bigger price for Brownback's seven-year experiment with supply-side social engineering than Kansas's schoolchildren. The governor's giant, regressive tax cuts forced reductions in education spending so extreme, the Kansas Supreme Court found that they violated the state's constitution, which guarantees all children the right to a quality education.
Ironically, Brownback's dereliction of duty has, apparently, given the young people of his state an education in the importance of civic engagement — and now, six different teenage boys are running to replace him.
Last summer, Jack Bergeson, a 16-year-old Democrat from Wichita, discovered that Kansas had no age requirements for its top statewide offices. After forming an exploratory committee (and/or, discussing the matter with friends and family) Bergeson launched his gubernatorial candidacy. Shortly thereafter, five of his peers did the same — while high-school student Lucy Steyer of Lenexa hopped into the race for secretary of state.
Not everyone in Kansas politics appreciates all this youthful competition. As the Garden City Telegram reports:
Consternation about the number of teens in already crowded 2018 races inspired a bill discussed Wednesday by the House Elections Committee that would set a minimum age of 18 for candidates running for governor, secretary of state, attorney general, state treasurer and state commissioner of insurance.
In an impassioned piece of written testimony against the legislation, Bergeson implored his fellow Kansans not to judge candidates by the dates on their birth certificates, but by the content of their policy platforms.
"Allow me to clear up a misconception, I am not running for governor as a stunt, or a gag…I am running for governor because of the minimum wage worker that has to work three jobs just to get by," Bergeson said. "I am running because our education system has been lagging behind other states. I am running to get money out of politics, but most importantly, I am running to get as many people involved in politics as possible."




Bergeson said it is "imperative" to tear down barriers to political participation.
Ultimately, the debate over whether Kansas should establish age requirements is almost certainly moot. Even those pushing such restrictions don't want to impose them until after November's election — at which point, Governor Bergeson is sure to repeal the law.