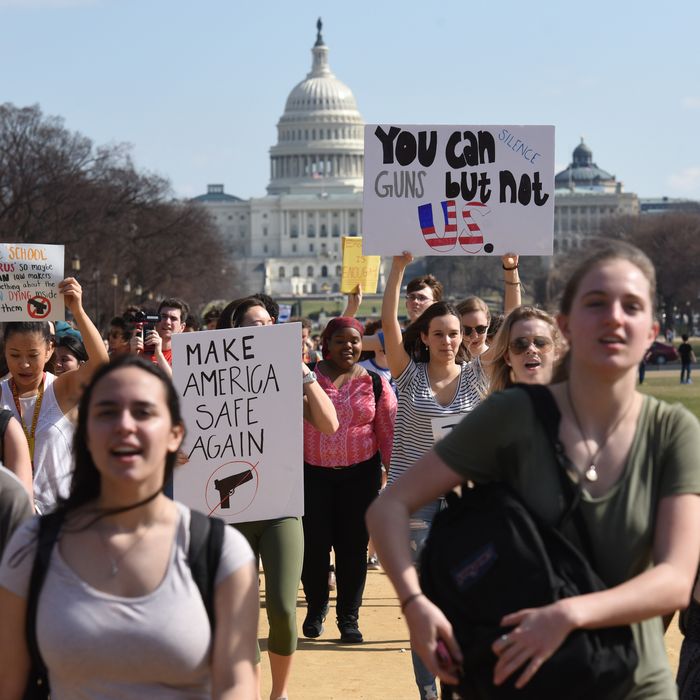 Hundreds of high-school and middle-school students staged walkouts and gathered in front of the Capitol in support of gun control on February 21, 2018.
Photo: OLIVIER DOULIERY/AFP/Getty Images
After years of fighting for more action on the issue of gun violence, gun-control groups are facing a welcome but unexpected quandary: how to embrace a swell of grassroots activism, while making it clear that the student survivors of last week's massacre in Parkland, Florida, are still the driving force behind the push for new gun laws.
Reports from The New Yorker and BuzzFeed tell the story of how Marjory Stoneman Douglas High School students shaken by the killing of 17 of their classmates and teachers quickly channeled their grief and anger into activism. After venting their feelings on social media, the teens received invitations to discuss gun violence in the national media. Realizing that people were responding, Cameron Kasky invited friends over to discuss how to turn the energy into a movement. Within days they had connected with other classmates hoping to make political change, and in appearances on the Sunday talk shows they announced they would hold a rally in D.C. next month.
The teens are uniquely positioned to make the case for laws to address gun violence, social-media savvy and old enough to express themselves eloquently, but still children who should not have to face the horror of gun violence at school. Nevertheless, they've received attacks and skepticism from the right. The most well known is a despicable conspiracy theory claiming that 17-year-old David Hogg is actually a "crisis actor" pretending to be a grieving student for the media's benefit. But there are also reports that cast doubt on the movement's authenticity more subtly, like a Washington Times piece that notes the students are "receiving help from seasoned left-wing activists." It goes on to cite a tweet from former Milwaukee sheriff David Clarke declaring the students' effort has "GEORGE SOROS' FINGERPRINTS all over it," and ends with a quote from the Resurgent's Peter Heck accusing mainstream media anchors of "child abuse" for interviewing traumatized students (some of whom are old enough to buy firearms).
It's true that the students are now receiving assistance from a wide array of "seasoned left-wing activists," but that doesn't mean they didn't come up with the idea to band together and push for new gun laws themselves, while sitting in their parents' living rooms. (Are we supposed to believe that since 2012, these shrewd left-wing activists passed up 239 opportunities to turn a school shooting into a nationwide movement?)
The Washington Post reports that in their efforts to further the most promising push for new gun laws in years, gun-control groups have been careful to make it clear that they're following the students' lead. Groups including Everytown for Gun Safety, the Brady Campaign, and Giffords, formerly Americans for Responsible Solutions, say they've only connected students with other gun-violence survivors, provided information, and started to talk about how they could help with the rallies planned for March.
"It's important to recognize that in every single way possible this is an authentically grassroots, student-led movement," said Peter Ambler, Giffords executive director. "Of course we're reaching out and trying to lift them up, and give them the resources we can muster to make them successful. But we have been sort of at arm's length, in the background doing whatever we can to support them."
The students have enlisted Deena Katz, co-executive producer of Dancing With the Stars, to help organize the rally in Washington, D.C., on March 24. It's a complicated process involving many logistical issues, from planning marching routes to obtaining portable toilets. She filed a permit application for the National Mall on Monday that says the organizers expect 500,000 people, and plan to set up 14 jumbotrons and 20 tents.
Katz is the co-executive director of the Women's March Los Angeles Foundation, but she's not representing that group in setting up the March for Our Lives. Still, that's added fuel to the right-wing speculation about Soros's involvement, as he has donated money to about a fifth of the progressive groups listed as partners in the Women's March. A representative from Soros's Open Society Foundation told the Post that while he supports the students' efforts, he hasn't given them any money.
The students have received plenty of encouragement from other figures on the left. On Wednesday night Michelle Obama and Hillary Clinton, who have been cautious about involving themselves in protest efforts that sprang up after Trump's election, voiced their support for the students' gun-control push.
Parkland's teen activists also received $500,000 donations from a number of celebrities, including Oprah Winfrey, Steven Spielberg, Jeffrey Katzenberg, and George Clooney. But Cameron Kasky's father, Jeff Kasky, told the Miami Herald that the students' fundraising efforts came about organically as well. He said that after the students announced a national rally they did some quick research on what that would entail, and started a GoFundMe page on Sunday night with the goal of raising $1 million. Thanks to the celebrities' contributions, and the small donations of nearly 21,000 people, they now have around $3.5 million at their disposal.
Jeff Kasky said Clooney spoke with some of the students' parents on Tuesday to address concerns about "whether there would be an adult in the room," and assisted the group in bringing in attorneys, administrative help, and a public-relations firm. But he said Clooney is only assisting the students.
"These people putting their money in — not a single one of them has said anything along the lines of 'I'll donate but you have to listen to what I say.' Nobody is pulling the strings for these kids," Kasky said. "I have to make clear: [Clooney] is not directing them, nor is anybody. I don't know if they've even spoken. But at least some pressure is off them."