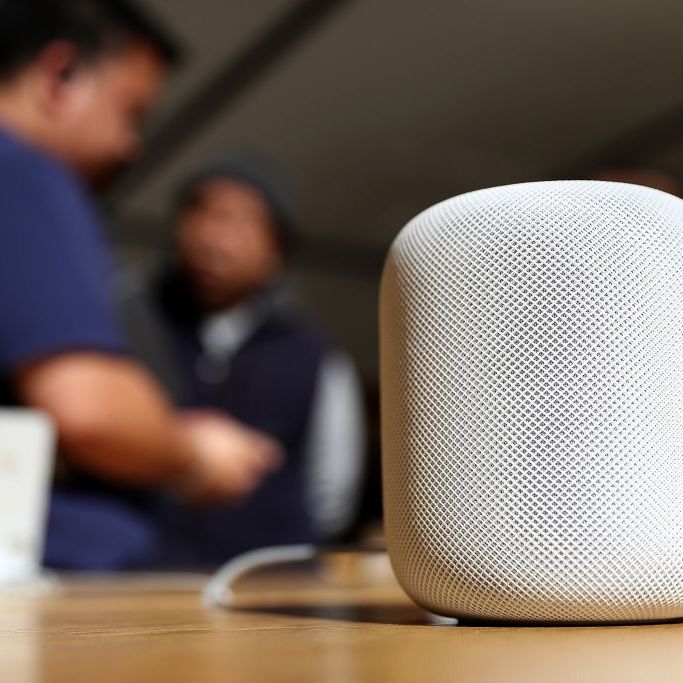 Photo: Justin Sullivan/Getty Images
Apple's HomePod is apparently leaving white rings on the surface of certain kinds of wooden furniture, and nobody seems quite sure why.
As reported by Pocket Lint and the Wirecutter (as well as several Twitter users), leaving the HomePod on wooden surfaces treated with oil appears to leave a white ring on the surface of the wood.
The Wirecutter said it noticed white rings appearing on an oiled butcher block, while Pocket Lint noted the same on an oak kitchen worktop treated with Danish oil (a mixture of tung oil and varnish).
Apple confirmed the issue to both Pocket Lint and the Wirecutter, writing that "the marks can improve over several days after the speaker is removed from the wood surface" — but if the marks don't disappear, Apple suggests that you "try cleaning the surface with the manufacturer's suggested oiling method" — in other words, try refinishing your furniture.
It's unclear what exactly is causing these rings to appear. The HomePod has a silicone ring at its base, and silicone and oil don't get along well — but that's just a hypothesis.
For what it's worth, I used a HomePod on an oak butcher block treated with mineral oil in my own home for about two hours and didn't see a ring. But that was only two hours of use, and the HomePod spent the majority of the time on a Formica countertop.
The Wirecutter also says it didn't see white rings appear on glass, medium-density fiberboard (i.e., what a lot of your Ikea furniture is made out of), or any wood treated with a polyurethane lacquer. For now, if you've got a nice piece of wooden furniture that you regularly treat with oil and you've got a HomePod, we'd recommend keeping them away from each other. Or at least using a coaster.