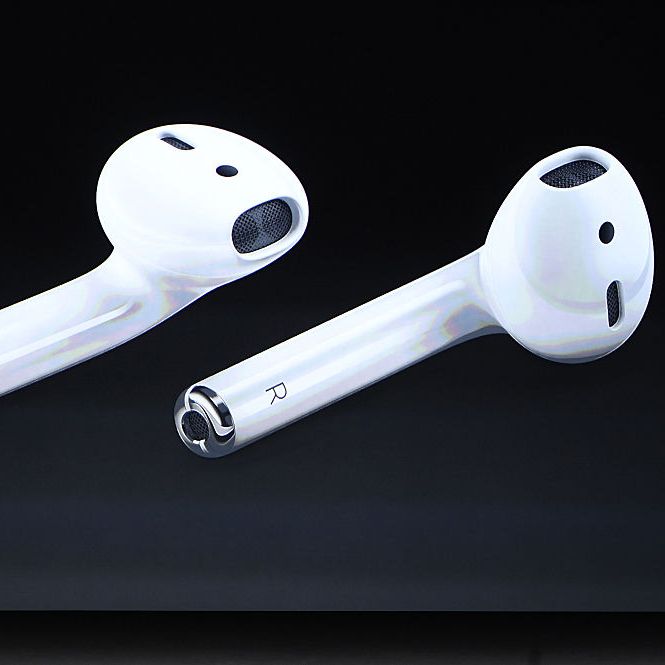 Photo: Bloomberg/Bloomberg via Getty Images
The AirPod has been a runaway success for Apple. And per Bloomberg's Mark Gurman, 2019 will see the second generation of the wireless earbuds hit the market. There are two big changes you can expect.
One, waterproofing — or at least improved water resistance — will be coming to the second-gen AirPods. This won't mean that you can suddenly start swimming laps with AirPods, but will likely mean that they'll withstand brief drops in water or rain a bit better, as well as stand up to sweat better. Electronics don't like getting wet and they also don't like chlorides, and when you sweat, you're basically just pumping out water and sodium chloride. (Our bodies: not wonderlands!)
Two, no more needing to touch your AirPod to activate Siri — you can just say "Hey, Siri" and activate your AirPods. I've been genuinely impressed with how much better Siri has become over the last year or so, and removing the need to touch to activate is a nice step forward.
For spec heads, the AirPods will feature Apple's W2 chip, their own proprietary Bluetooth chip that makes pairing up AirPods (and HomePods) such a breeze. It's the same chip you find in the latest generation of Apple Watches, and generally seems to work pretty well for long-distance pairing — though, as always, long-distance audio streaming can be tricky, particularly in crowded urban environments.
Much like the Apple Watch itself, it's likely that the AirPod will move to a two-year upgrade cycle. As Apple's smartphone business slows down (it made more money on smartphones last quarter, but sold fewer of them overall), things like Apple Watches and AirPods are becoming increasingly important for Cupertino.