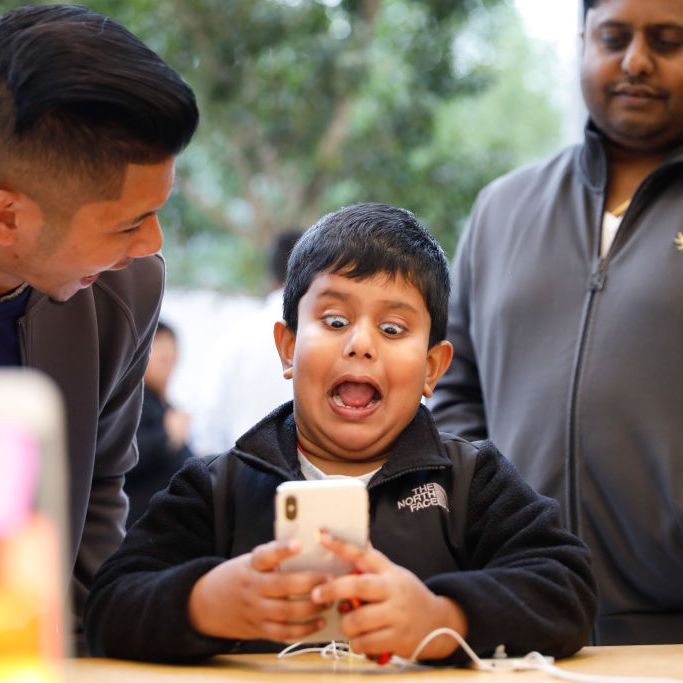 A boy makes faces while testing out the animoji feature on an iPhone X at the Apple Store Union Square.
Photo: AFP Contributor/AFP/Getty Images
It looks like iPhones will come in threes now. Bloomberg's Mark Gurman, usually a reliable source for Apple leaks, says that the maker of the world's most popular smartphone will release three separate phones this fall: an upgraded handset that will remain the same size as the current iPhone X, an economy model that will have some of the iPhone X's features (think: FaceID and animoji), and one with the biggest iPhone screen ever, meant to cater to the ever-growing phablet market.
To start with the biggest news first: The new phone will reportedly feature a 6.5-inch edge-to-edge diagonal screen, but will be housed in the same body as the iPhone 8 Plus. This means that the phone will feature an enormous amount of screen space, but remain the same size in the hand as an iPhone 8 Plus. If you've grown used to holding a Plus, you'll be able to handle the the extra-sized X. For comparison, the Samsung Note 8 has a 6.3-inch screen, and there are many, many tablets on the market with a 7-inch screen. It may also feature the ability to house dual-SIM cards, an important consideration in the Asian and European markets where consumers may switch between carriers depending on which country they're in.
Perhaps more interesting is Apple's decision to apparently go for the economy market. It's done this before; the iPhone SE and the iPhone 5C were both designed with value-conscious consumers in mind. While the new phones will feature the same edge-to-edge screen seen on the iPhone X, they'll sport cheaper LCD screens and aluminum bodies to keep costs down (both the current iPhone 8 and iPhone X use stainless steel).
The upgraded iPhone X will remain the same size, and likely follow the same course as previous second-generation iPhones — it'll be faster, perhaps slightly slimmer, and boast better battery life. Regardless, this fall we'll likely see three iPhones that all feature the edge-to-edge design that made the iPhone X so striking when it debuted.
The moves come at an interesting time for Apple. The company's phone division is more profitable than ever, but selling fewer phones; the iPhone X missed analysts' sales predictions by about 8 million phones. The company made up for this difference by selling phones for far higher prices. But with Apple still struggling in China, it needs to sell the sizzles while keeping the price below $1,000.